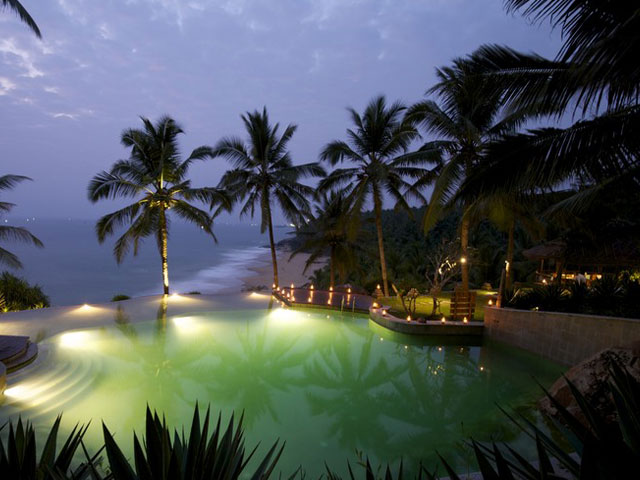 Kerala, popularly known as God's Own Country, is widely acclaimed to be a gem amongst the tourist spots in India and a famous tourist destination of the world. Some of the exceptional highlights of Kerala, which draws tourists from around the world is its verdant greenery, its natural surroundings and its treasured heritage. Capitalizing on these strengths of the state, several beach resorts have opened their gates to not only let the guests enjoy the incredible ambience, but also take benefit from timeless Indian heritage to revitalize and rejuvenate themselves. Here we enlist 15 Best Beach Resorts in Kerala that have been ruling the roost in furnishing an excellent experience to visitors in luxury and comfort and also letting them enjoy a great vacation in the healthful cradle of nature.
Here is a list of 15 best beach resorts in Kerala
Vivanta by Taj Malabar, Kochi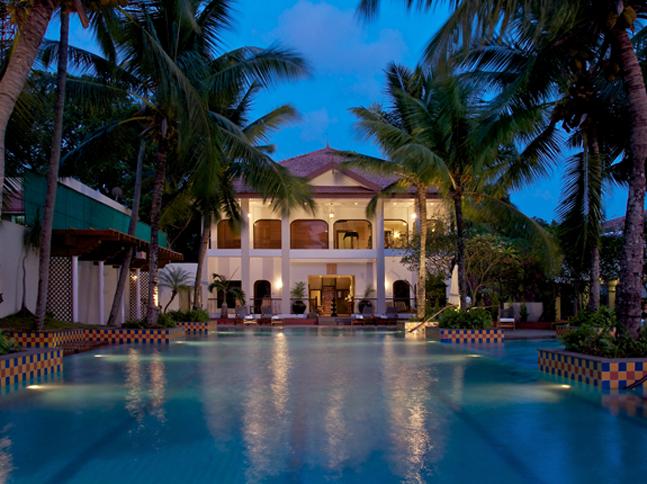 Subdued in incredible luxury in combination with an old- world Victorian elegance along with an excellent modern architecture, Vivanta by Taj Malabar in Kochi is a world class facility. Carefully designed and crafted individual rooms are fixed with all the modern amenities to let the visitors have best of experiences. Each room affords the guest an amazing view of the Cochin harbor, while internally they are styled in a contemporary spirit.
Located not very far from the city center, the resort has a superb spa with the facility of rejuvenating Ayurveda and Naturopathy treatments. On the other hand, the cuisines are another highlight at the resort, with a diverse range available from across the different corners of the country and the world. The exquisite luxury accorded at the resort makes the guest feel at home while fascinating services establish it to become one of the most memorable excursions for a discerning traveler.
Address: Willingdon Island, Cochin – 682 009, Kerala, India
Nearest Beach: Cochin Harbor
Kumarakom Lake Resort, Kumarakom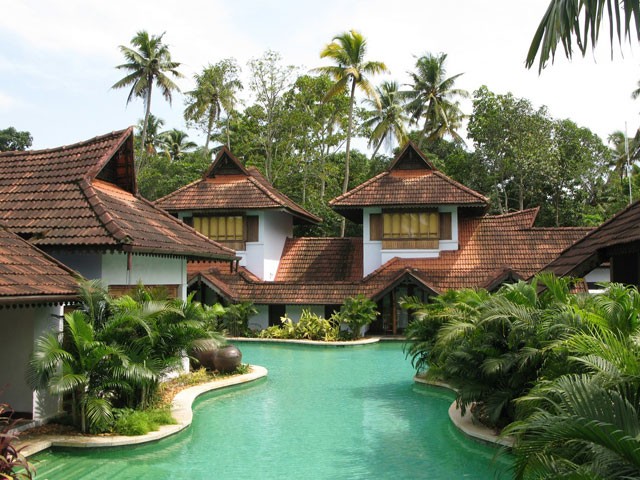 Furnishing one of the finest views of the Keralan backwaters, The Kumarakom Lake Resort is an epitome of luxury and comfort in the middle of amazingly picturesque surroundings. With an aim of affording best experiences and services to its guests, the resort has excellent accommodation with a range of options from luxury pavilion rooms, lake view villas, pool villas to the exclusive Presidential suites for special guests.
In addition to the luxurious stay, the guests are treated to rejuvenating services like Ayurveda Spa, besides affording them the facility of a health club and a swimming pool. Spread in a vast and lush 25 acre area, the resort, overlooking the beautiful Vembanad Lake is a perfect place to spend some peaceful and memorable moments in the salubrious weather and amazing ambience of Kerala.
Address: Kumarakom Lake Resort, Kumarakom North Post, Kottayam 686 566, Kerala, India.
Nearest Beach: Vaikom Beach
The Leela Kovalam
Fulfilling the expectations of a thoughtful and fantastic beach resort, The Leela Kovalam, looking over the beautiful sights of seas is a place to have an amazingly surreal experience. Every detail of the resort has been attended to as it exudes a graceful aesthetic warmth and pleasure. The same salubrious ambience extends to all the rooms which have been given opulent finish with plenty of light, air and freshness.
Located on a cliff-top and within a convenient distance from Trivandrum International Airport, the resort is a perfect instance of fine dining and a luxurious treat for body, mind and soul. Enjoy a lazy drink on sitting inside the wide lounge or please yourself to the rejuvenating treatments with ingrown medicinal plants or even attend Yoga sessions on the rooftop, known as the Divya, the choice is yours depending upon how you want to pamper yourself to their incredible services and comforts.
Address: The Leela Kovalam, Kovalam Beach Road, Thiruvananthapuram, Kerala 695527
Nearest Beach: Surya Samudra Beach
[Check-out Kovalam Tour Package]
Marari Beach Resort, Marari
With 13 independent cottages designed and fixed with all the modern and state of art facilities to furnish supreme comfort to its visitors, Marari Beach Resort is great place to relax and unwind. Marari is widely claimed to be one of the cleanest villages in the Alleppey district of Kerala. Known for its excellent ecological diversity, the place has a fabulous environment and surroundings making the resort a wonderful place to rejuvenate and revitalize the body.
In addition, the place has remarkable spa facilities, a range of delectable cuisines for the pleasures of table, a swimming pool, facility for internet connection and even the convenience of doctor on call. The expansive space with a wonderful ambience is ideal for spending a calm and peaceful vacation with excellent hospitality and service par excellence.
Address: North S.L Puram, Mararikulam -688549
Nearest Beach: Mararikulam Beach
Niraamaya Retreats, Kovalam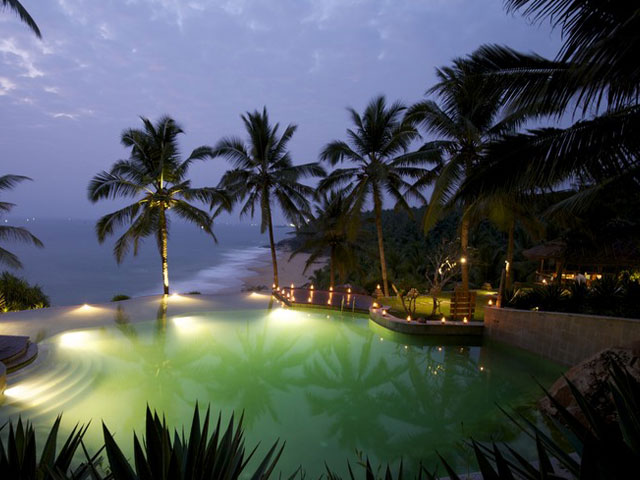 Enveloped in lush green cover and vastness of Arabian Sea, The Surya Samudra resort of Niraamaya Retreats is a wonderful blend of traditional Indian way of serving and contemporary luxury. An embodiment of indulgence targeted at furnishing best of luxury experiences to visitors with a range of services for a holistic rejuvenation and recreation, the resort sports a private beach and a wonderful sea-side infinity pool for the top of the line pleasure for its valuable guests.
The spacious rooms, fixed with terracotta roofs, tiled floors, wooden pillars, flat-screen TV, a minibar and air-conditioned rooms are a perfect treat for a smooth and comfortable vacation. Located at just a 20 minute drive from Vizhiniam Beach and an hour's drive from Trivandrum International Airport, the resort serves as a haven for romantic getaways and some memorable family time together.
The dishes and cuisines served at Niraamaya is another of the delight as expert chefs are employed to give best pleasures of table for their esteemed guests. Do check in at Niraamaya for best of services, to enjoy an unforgettable holiday time.
Address: Pulinkudi, Mullur PO, Thiruvananthapuram 695 521, Kerala, India.
Nearest Beach: Surya Samudra Beach
The Gateway Hotel, Varkala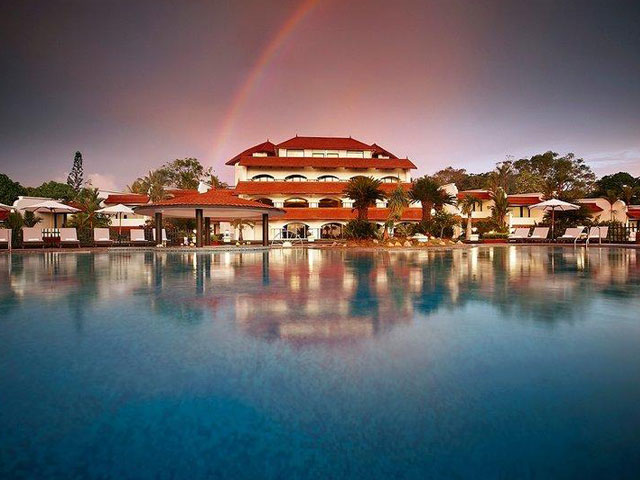 Perched atop a cliff overlooking the Arabian Sea, The Gateway Resort is a wonderful place to relax and rewind in the cradle of nature's verdant blessings. With 30 rooms and suites from Standard Garden View Room to Deluxe Suite Sea View Rooms, which are fixed with all the modern amenities and facilities, the resort aims to present visitors with state of art comfort and leisure. All the rooms are fixed with latest fittings such as a work desk, mini-bar, satellite television, ironing board etc.
The resort also features a well-furnished and well-equipped conference room with a total seating capacity of 35 people with the option of internet and WIFI also available. For letting the visitors have an overall good time, many options for recreation, including an Ayurveda Massage Center, Tennis Court, Volleyball Court, Badminton, Table Tennis, Jacuzzi, library as well as backwater cruises are also available.
The resort is conveniently located within an easy distance from Varkala Railway station while its distance from Thiruvananthapuram Airport is 50 kilometers. In addition to spending some tranquil time at the resort, the guest can also pay a visit to the 2,000 year old Janardhanswamy Temple located in the close vicinity while also enjoying themselves at the Kappil beach which is situated within the distance minutes away.
Address: Janardhanapuram Varkala near Government Guest House Varkala, Thiruvananthapuram, Kerala 695107
Nearest Beach: Kappil Beach
Kairali Heritage, Kannur
 Located on the banks of the Kettampalli River, spreading in over 11 acres of picturesque landscape, The Kairali Heritage Resort is one such home of luxury and pleasure. Situated in an already a beautiful location of Kannur, in God's Own Country, the Resort offers beautiful 24 river facing cottages furnished with individual balconies, a TV, minibar, cold and hot water supply as well as an efficient room service. There is space for holding up to 50 guests, a conference hall with a stage as well as a bigger open space for organizing large functions of up to 1000 guests.
For furnishing a comprehensive luxury experience to its guests, the resort incorporates an Ayurveda center, a health club, and swimming pool as well indoor games for recreation of visitors. On the other hand outdoor activities like houseboat cruise, water sports, bicycling, toddy tapping and a trip to Beedi Making Factory is organized for the diversion and recreation of guests. The resort is a great place as a weekend gateway or for a short trip to expend some peaceful moments in the lap of nature and away from the chaos of the cities.
Address: Kairali Heritage, Kattampally, Kannur-670 603, Kerala, India
Nearest Beach: Kattampalli River Bank
Kanan Beach Resort, Kasaragod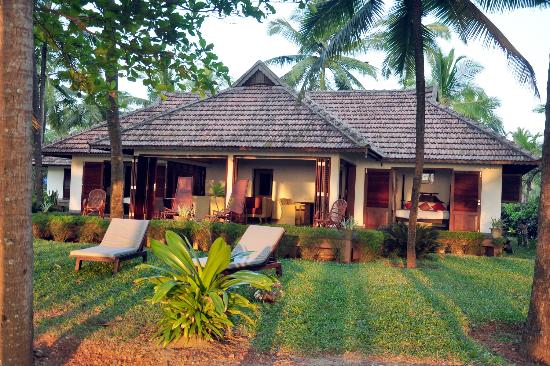 Located between the expansive shores of Bekal Beach and Nileshwar Beach and within the vicinity of paradisiacal sights of lush greenery, Kanan Beach Resort is a home of peace and relaxation. Offering a wonderful hospitality with excellent services, focus of the staff at Kanan Beach Resort is giving best experience to visitors. There are in total of 14 fully-furnished and spacious cottages fixed with state of the art amenities like an air conditioner, LCD TV, tea/coffee maker, an electronic safe and minibar.
For holistic pleasure of guests, facilities like a large swimming pool, beach volleyball, a library are available while exciting activities such as a houseboat cruise and bicycle tours are organized for a unique adventure for travelers. On the other hand wellness options incorporates Spa, Ayurveda Treatments and Yoga while services such as a travel desk, doctor on call and WI-FI are also available.
Address: Ozhinhavalappu P.O.Nileshwar, Kasaragod – 671314, Kerala, India.
Nearest Beach: Bekal Beach and Nileshwar Beach
The Zuri Kumarakom Resort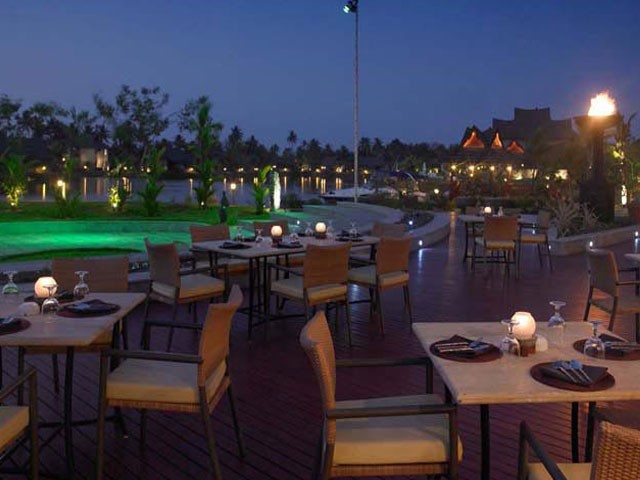 Set in a wide 18 acres of verdant green space and located on the scenic shores of the Vembanad Lake, The Zuri Kumarakom Beach resort is a visitor's paradise of luxury and comfort. Well-furnished and spacious rooms define its accommodation, as the each individual living space is fixed with an air conditioner, a flat-screen TV, a personal pool, a bathtub and a 24 hour personal villa host. The resort endeavors to bring in the best and state of the art services for its esteemed guests as indulging spa treatments, an expansive outdoor lagoon pool with bamboo rafting, a fitness center, free WIFI and parking facility are made available for their comfort, convenience, luxury and recreation.
The culinary options at the resort are simply mesmerizing as guests get to pamper themselves with multi-cuisine dishes based on diverse traditions from inside the country and across the globe. International Spirits and Habanos Cigars can also be enjoyed at Marquees Lounge.
The Zuri Kumarakom Resort is located about 90 kilometers from Cochin International Airport and is also easily accessible from the Alleppey Railway Station. With a 24 hour front desk service and facility for laundry and furnished meeting rooms, the resort is an icon of leisure and extravagance.
Address: V 235 A1 to A54, Karottukayal, Kumarakom, Kottayam, Kerala 686563
Nearest Beach: Vembanadu Lake
Coconut Bay Beach Resort, Trivandrum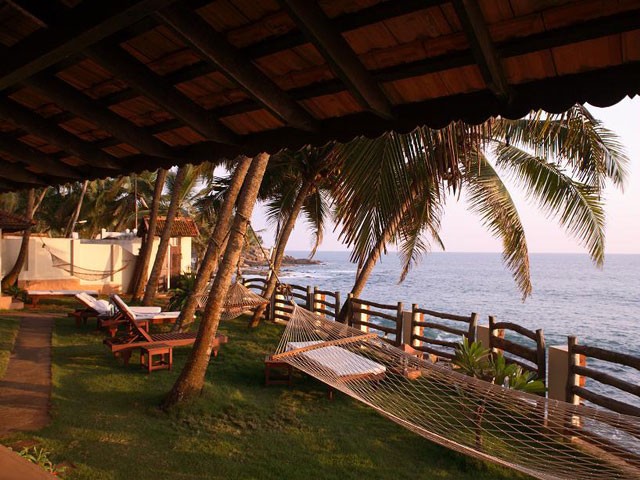 Providing a much sought after escape from the chaos and bustle of the city life and extending a welcoming hand into the nature's valuable company, Coconut Bay Beach Resort is a great place to enjoy some serene moments. Standing on the shores of Kovalam, the resort presents luxury and pleasure to its guests in form of 22 well-furnished and conditioned, deluxe suites as well as five beach rooms that affords an excellent view of the seas.
However, the resort goes further to bring to its guests a range of services, from Ayurveda packages and treatments, Yoga classes, a swimming pool with Jacuzzi to exclusive cuisines from different corners of the country.
Located approximately 5 kilometers from the Kovalam Lighthouse Beach, the resort has internet, fax, laundry, library, a safe, telephone with international calling while each room has a refrigerator and hot water facility. Descend to this calm resort to have a great time relaxing and rejuvenating yourself away from restless form of modern life.
Address: Mulloor P.O., Vizhinjam, Kovalam, Kerala 695521
Nearest Beach: Lighthouse Beach
Woodhouse Beach Resort, Varkala
Blending the best of both traditional and modern Woodhouse Beach Resort is an amazing place to enjoy a salubrious natural ambience in the midst of incredible comfort and facilities. Guests are treated to some great pampering with various pleasures and services available to them to enjoy a great time at the resort. The cottages are made of wood and are fixed with latest amenities to not only furnish a great setting but also enjoy some great luxury and convenience. The atmosphere is peaceful and conducive to relaxation and reflection. The nearby Varkala beach is a great place to spend some cool evening, walking along its long shores.
The resort is located about 46 kilometers from Trivandrum International airport and about one and a half hour's drive from Thiruvananthapuram.
Address: Woodhouse Beach Resort, Thiruvananthapuram, Kerala 695311
Nearest Beach: Varkala Beach
Cherai Beach Resort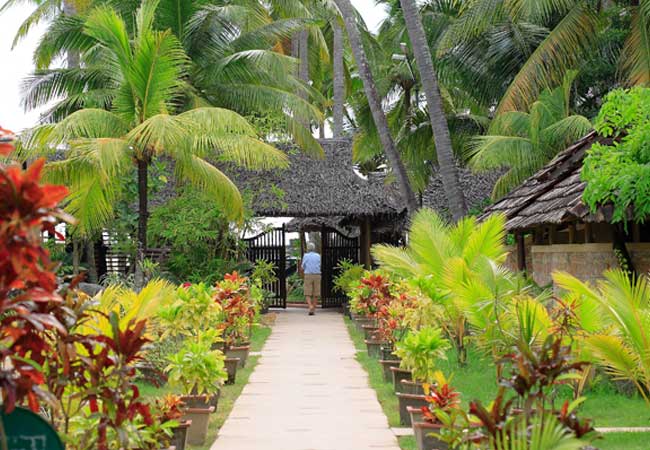 Agreed upon by the majority of tourists as an oasis of beauty, calmness and recreation, The Cherai Beach resort is a wonderful retreat for relaxation and rejuvenation. Spread in over 6 acres of picturesque sights with a large pond in the middle, flanked by palms, green lawns, coconut grooves and tropical plants, the resort features luxury cottages and suites, all equipped with modern amenities and facilities.
Extending further to furnish most luxurious and comfortable experience to its guests, the resort sports a modern spa with state of art equipment and services and affords its visitors a range of valuable Ayurveda massage. The resort is located within the close vicinity of Cherai Beach, a picturesque beach with vast Arabian Sea on one side and fascinating Kerala Backwaters on the other. Guests can enjoy long walks on sandy shores as well as revel in open sun, surf and freshness of the surrounding ambience. An excellent and well-maintained resort, expect a great holiday experience at the resort with your friends or family.
Address: The Cherai Beach Resorts, Vypin Island, Kochi, Kerala, India, Pin-683514
Nearest Beach: The Cherai Beach
Alleppey Beach Resort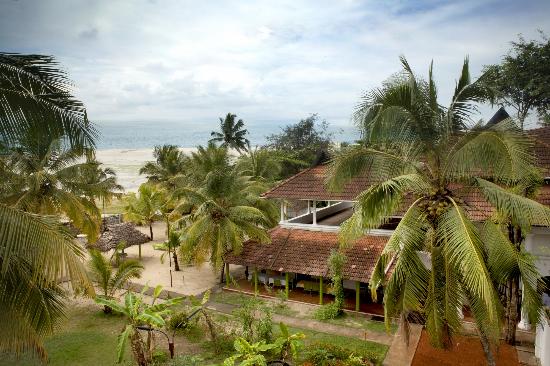 Set in a traditional heritage house with wooden ceilings, tiled roofs and snuggling rooms with an excellent peaceful atmosphere and luxury services, Alleppey Beach Resort is an amazing place. Guests at the resort enjoy incredible Sun, Sand, and Seafood as they spend their vacation away from the chaos and bustle of the city life.
To let the visitors rejuvenate their bodies and recharge their spirits, various Ayurveda packages are presented for a holistic experience. Moreover, the nearby Alleppey Beach is an amazing place to soak in the picturesque sights or enjoy some tan, or relish the long romantic walks with your loved one. Besides one can also enjoy luxurious backwater cruises along the heavenly Kerala Backwaters.
The accommodation for the guests have both A/C and Non A/C rooms, fixed with state of the art equipment and facilities. The cuisine at the resort is another highpoint with dishes from traditional seafood to Chinese and other varieties prepared by expert chefs. Besides there is also a locker facility, an opportunity for outdoor games and travel assistance provided by the staff.
Address: Alleppey Beach Resorts, Beach Road, Alleppey – 688012, Kerala, India
Nearest Beach: Alappuzha Beach
Somatheeram Ayurvedic Health Resort
Known as the first resort to advance the teachings of Ayurveda beyond the borders of India, the Somatheeram Ayurveda Health Resort is a holistic retreat for health and leisure travelers. Awarded as the "Best Ayurveda Center" by the respective state government several times, the resort has over 20 years of experience in serving authentic health treatments to people with a wholehearted commitment. With the beautiful location of being situated near the Lighthouse Beach, the resort features amazing salubrious ambiance that assists in thorough recreation of the guests.
The resort itself is built in the traditional Indian style with European furnishings. The individual rooms are equipped with all the modern amenities with showers, fans, kettle, telephone etc. Overall, the accommodation is divided into Cottages, Kerala Houses, Siddharatha Deluxe and Samana Ayurveda Hotel. The Cuisine at the resort is decided and prepared carefully, attuned to the Ayurveda teachings and your own personal constitution of the body. However, visitors can enjoy other cuisines as well.
The resort is an excellent place to spend some time revitalizing your body and soul and relax in the amazing atmosphere that surrounds the premises.
Address: Somatheeram Ayurvedic Health Resort, Chowara P.O., South of Kovalam, Trivandrum – 695 501, Kerala, India
Nearest Beach: Lighthouse Beach
[You may also check Kerala Ayurveda Tour Packages]
Samsara Harmony Beach Resort
With stunning views surrounding the resort, capturing the essence of the South Coast of Kerala, Samsara Harmony Beach Resort is a relaxing enclave with astounding services. The resort itself is situated just few minutes away from Kappil Beach and from the historic, 2,000 year old Janardhanswamy temple which forms an attractive peaceful atmosphere around the resort. Sporting a wonderful swimming pool, tropical gardens, ocean-front cottages and elegant black and white sandy beaches, the resort with its services feels just like home away from home.
For the convenience of the guests and ensuring a relaxed stay, there are facilities of a travel desk, free WI-FI, Ayurveda treatments, 24 hour room services, as well as an excellent restaurant that serves relishing delicacies. The Samasara Harmony Beach Resort received an achievement of certificate of excellence from Trip Advisor in 2014. The resort remains a great place to refresh and recharge your batteries in the midst of excellent environment.
Address: Samsara Harmony Beach Resort, Near Manthara Temple, Odayam Beach, Manthara, Varkala, Kerala, Pin: 695311
Nearest Beach: Odayam Beach, Kappil Beach
[Find an Extensive List of Top Hotels in Kerala]
Related posts:
Top 5 Ayurvedic Resorts in Kerala
12 Best Beaches in Kerala