South India is dotted with places to suit the varied interests of travelers. Among the best places to visit in Kerala and Karnataka are Munnar and Coorg, respectively. Both are hill stations of their states and much-loved tourist hubs. Having their own set of attractions that draw tourists from far and wide, both these hill towns are crowns of South India. However, these places have their fan base who prefer one over others. How do they differentiate the two? Let's see.
Coorg Vs Munnar: Where will you travel in 2021?
| | |
| --- | --- |
| Coorg | Munnar |
| Best time to visit – Winters (Nov-March) | Best time to visit – Winters (Dec to Feb) |
| Ideal duration to visit – 10 days | Ideal duration to visit – 4-5 Days |
| Coorg is better for adventure lovers | Munnar is better for sightseeing |
| Coorg is better for long trips | Munnar is better for a short trip |
| Mysore Junction is the nearest railway station for Coorg | Aluva (Kochi) is the nearest railway station for Munnar |
[See more: Munnar Tour Packages]
Munnar is better then Coorg : Our Recommendation
Although Coorg and Munnar are equally scenic and offer myriad opportunities to delight in, the latter scores some brownie points. This hill station in Kerala is unbeatable, especially when it comes to romantic vibes and pleasant weather. Its aromatic tea estates, misty hills, unique wildlife, terrific treehouses, and incredible natural beauty sets Munnar apart from Coorg. Hike into the oblivion as you tread through the mighty peaks of Munnar, laced by meadows. At the same time, tranquility accompanies you throughout your treks in this hill town and wellness greets you with its myriad Ayurvedic spa therapy sessions. A trip to Munnar is more like being transported to a sensory paradise. As you delve deeper into the expanses of Munnar, you feel the clamor inside quietened with the healing touch of Mother Nature. Enjoy a visual treat, soak in soothing serenity, bask in the beauty of pristine environs, and feel renewed inside out in the nature-kissed reviving spot that Munnar is.
Best Time to Visit in Coorg
You can explore Coorg all throughout the year. The best time to visit Coorg is through the months of December to February. October and March are the best months for adventure enthusiasts.  Visit Coorg in the summers (March to May) when the land is full of bloom with flowers. Avoid Coorg during the monsoons (June to September) as there are heavy rainfalls.

Best Time to Visit in Munnar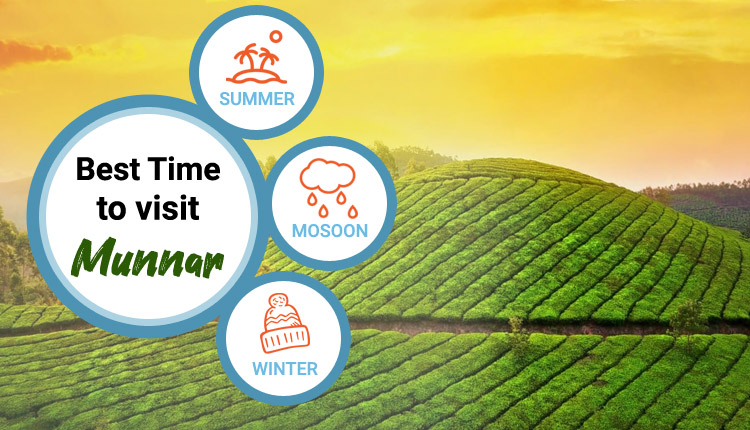 Winters (December to February) is the best time to visit Munnar. You can choose the summer months (March to May) to enjoy sightseeing and visiting tea estates and the Tata Tea Museum. Monsoon (June to September) is also a great time to enjoy discounts on hotel tariffs and enjoy Munnar all to yourself, without swarms of tourists.
Winters are the best in Coorg and Munnar.
Ideal Duration
Both these hill towns assure you great times that can last for a week. Visit a host of tourist hotspots and take up activities of your choice. In Coorg, you might extend your stay, considering its plethora of attractions that keep you on your toes. Munnar is better suited for short trips and weekend visits. However, the duration to stay in either of these depends on your purpose of visit.
How to Reach Coorg and Munnar?
Coorg 
You need not worry about how to reach Coorg as it is well-connected to various major cities of the country by air, road, and rail.
The nearest airport to Coorg is Mangalore Airport, at a distance of about 160 km. It is connected by flights to major cities like Delhi, Mumbai, Bangalore, Hyderabad, and Chennai.
KSRTC (Karnataka State Road Transport Corporation) provides regular deluxe bus services to Coorg from cities like Bangalore, Mysore, and Mangalore.
The nearest railway station to Coorg is Mysore Junction, located around 95 km.
Commuting in Coorg
Bus: You can commute within the town are nearby places through government and private buses.
Taxi/cab: You can book a taxi or a cab to visit sightseeing spots.
Walk/Hike: To explore the culture of the place, one of the best ways is to walk or hike across. En route, scenic vistas will keep you pepped up to proceed with the stroll.
Munnar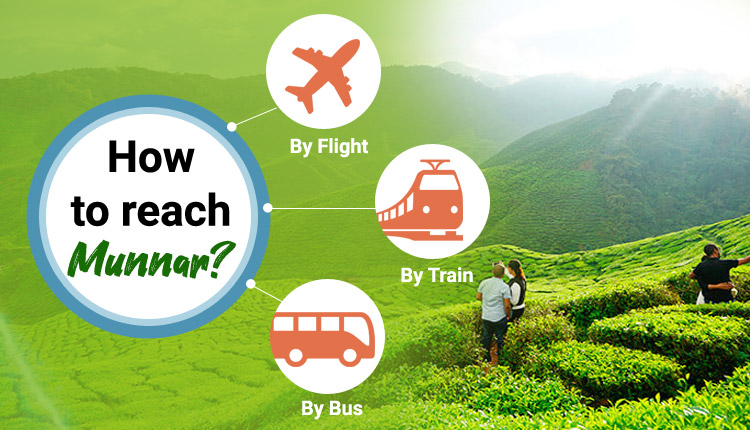 Visited extensively throughout the year, Munnar offers easy access to its tourists through various modes. So, if you want some info about how to reach Munnar, scroll down. 
The nearest airport to Munnar is the Cochin International Airport, which is 110 km away. From Cochin, you can take a cab to reach Munnar.
At 140 km (approx.) from Munnar stands Madurai International Airport. Hire a cab, taxi, or board the state transport or private buses to reach Munnar.
State-run or private buses, plying from various towns in Kerala and Tamil Nadu, are the best way to get to Munnar by road.
The nearest railway station from Munnar is at Aluva, which is 110 km away.
The Ernakulam Railway Station is at a distance of 130 km, while the Madurai Railway Station stands 135 km away.
From any of the railway stations, you can hire a cab or take a bus to Munnar.
Commuting in Munnar
Bus: You can commute through government and private buses within the town and nearby places.
Taxi/cab: Visit tourists' hotspots by hiring a taxi or cab.
Rent a bike: Explore Munnar on your own by riding a rented bike.
Places to Visit 
Blessed with a bounty of tourist hotspots, both Coorg and Munnar spoil you with attractions to explore and the most loved places to visit in Kerala and Karnataka. Some of the much-preferred attractions in both the hill towns are mentioned here.
In Coorg
Abbey Falls: A part of River Cauvery, it gushes in full force, especially during monsoons.
Pushpagiri Wildlife Sanctuary: Spot rare species of birds and wildlife, and scenic treks here.
Iruppu Falls: Cascading along the Brahmagiri Mountains from River Cauvery's tributary.
Madikeri Fort: A 17th-century fort that has a museum inside.
Coffee Plantations: Aromatic coffee plantations, dotted all over invite you for sipping on freshly ground coffee.
Tadiandamol Peak: The highest peak in Coorg much loved by trekking enthusiasts and nature lovers.
Raja's Seat: Raja's Seat is one of the best attractions in Coorg to watch sunrises and sunsets.
Honnamana Kere Lake: A scenic lake coupled with religious significance.
Nishani Motte: Enjoy trekking 15 km for a joyous experience of exploring an unknown land.
[See our tastefully crafted Coorg Tour Packages here]
In Munnar
Eravikulam National Park: A UNESCO world heritage site, the park is home to unique Neelakurinji flowers that bloom every 12 years.
Kundala Lake: This is an artificial lake, around 20 km from Munnar. It is known for its breathtaking scenery.
Mattupetty Dam: Tucked amidst lofty mountains, this reservoir is a primary hydroelectricity source in the region.
Top Station: Soak in panoramic views of the Western Ghats and the most beautiful valleys of Munnar from here.
Echo Point: Known as one of the most mystical places of Munnar, this is a photographers' paradise.
Tea Museum: Get a glimpse of the tea culture that flourishes across South India.
Blossom International Park: Admire some rare and exotic flowers in these 16 acres of parkland.
Marayoor Dolmens: These Dolmens are believed to be over 1000 years old. History buffs, this is the place for you in Mooriyar village.
[See our tastefully crafted Munnar Tour Packages here]
Must-Have Experiences 
Coorg and Munnar have something for everyone. Tourists of every age and interest have myriad experiences to indulge in. If you love nature, tranquility, or wellness; both places offer experiences.
Coorg
Indulge in rafting at the Barapole River
Spend time with elephants at Dubare Elephant Camp
Enjoy a homestay at the coffee plantations
Go trekking, camping, and hiking
Don't miss out on microlight flying and waterfall rappelling
Munnar
Take a shikara ride in the Kundala Lake at Munnar
Stay in a treehouse
Hike and trek in the most scenic spots
Go mountain biking and hiking at the Anamudi Peak
Pamper yourself at an Ayurvedic spa
Read More: Things to do in Munnar
Shopping in Coorg – Shop for coffee, tea powders, dry fruits, spices, silk sarees, chocolates, and homemade wines in Coorg.
Shopping in Munnar – From Munnar take home spices, handicrafts, aromatic oils, and traditional woodcraft items.
With a bounty of scenic delights, Munnar and Coorg are listed among the topmost places to visit in Kerala and Karnataka. Go picnicking, accompany the elephants, take up thrilling activities, breathe in the aromatic whiff of coffee or tea, and surrender yourself to the magic of nature at both these places. Compare Coorg or Munnar and explore the town of your choice. But no matter, which one you choose, you can't resist exploring the other. After all, you can't declare a destination winner without hitting the other one. So, you can also visit one place from the other. Coorg to Munnar distance is almost 462.4 km and the places are well-connected with each other. There are convenient ways to get from Coorg to Munnar by train, night bus, car, taxi, or flight. So, head to these places for an unparalleled vacation.
Related Post:
How to Plan Your Holiday in Kerala
Why visit Kerala during New Year?
Tourist Destinations in Kerala in Winter
Waterfalls in Kerala
Best Places for Honeymoon in Kerala
Frequently Asked Questions About Coorg To Munnar
Ques: Which place is more attractive Coorg or Munnar?
Ans: Although both are hill tows and are beautiful; Munnar is more picturesque than Coorg. Its numerous sightseeing attractions beckon tourists time and again.
Ques: What is the best way to experience Coorg?
Ans: To experience Coorg the best way, book a homestay accommodation, surrounded by aromatic coffee plantations and explore the hill town as per your convenience.
Ques: What are the best things to shop for in Coorg?
Ans: The best things to shop for in Coorg are coffee and spices
Ques: Why should you visit Munnar?
Ans: You should visit Munnar to delight in the scenic charm presented by tea plantations, waterfalls, and various viewpoints. Explore its wildlife sanctuaries, partake in adventure activities, and enjoy boating with paddle boats, speed boats, and shikaras.
Ques: Why should you visit Coorg?
Ans: You should visit Coorg to admire the scenic beauty highlighted by coffee plantations and pepper vines. Explore its rich cultural heritage and visit historical sites. Seek blessings at its temples and monasteries. You can also go camping in spectacular spots.
Ques: Which place is better for a honeymoon?
Ans: Munnar is better for a honeymoon.
Ques: Which hill station is cheaper to visit?
Ans: Munnar is cheaper than Coorg
Ques: How many days are enough in Munnar?
Ans: 3 Days are enough in Munnar.