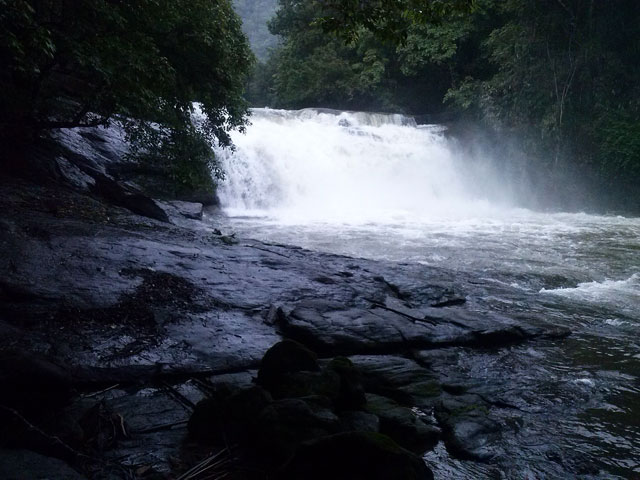 Appearing like a silver lining on verdant background with craggy Western Ghats, the waterfalls in Kerala look quite spectacular. One of the best natural features in the 'God's Own Country', these small and large water streams are also ideal settings for family picnics. The scenic beauty and tranquil surroundings cast a spell with their matchless charm. You can spend hours in their company. This south Indian state has several falls to its names, but this blog enlists 10 must-visit gorgeous waterfalls in Kerala:
1. Athirappilly Waterfalls
Positioned around 1000 feet above the sea level at the River Chalakudy in Thrissur district, Athirappilly or Athirapally waterfalls is probably the most popular waterfalls in Kerala. It is the biggest waterfall in Kerala that falls from the height of 82 feet in the form of various parallel streams. Also called the 'Niagara Falls of India', it has been blessed by wonderful views of the Western Ghats and Sholayar Hills.
If you trek from top to bottom, it will just take 10 to 15 minutes. Enjoy a pleasant swim in the crystal clear waters. The ideal time to spend here is 2 to 3 hours. Rainbow sighting is pretty common here. The forest around the falls is a rich biodiversity hotspot and has freshwater fishes, Asiatic elephants, lion-tailed macaque etc. Vazhachal Waterfalls are often clubbed with its visit.
Height: 82 ft.
Best Time to Visit: June – January
2. Thusharagiri Waterfalls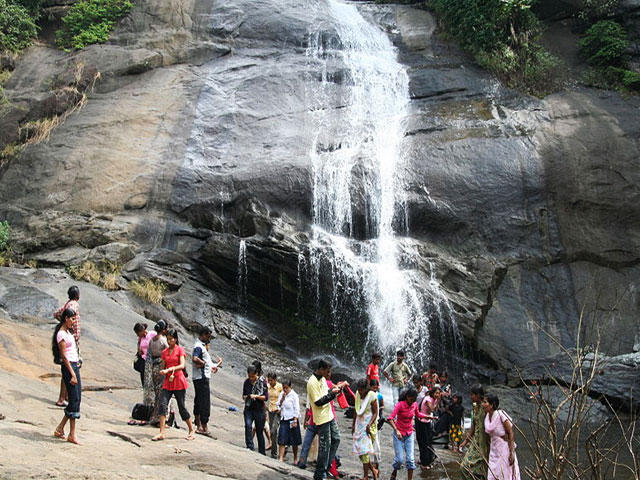 Around 50 km from Calicut, Thusharagiri waterfalls look like snow falling from the rocky hills. The sight is absolutely breathtaking yet relaxing. A formation of a number of streams, this waterfall's original is accessible by trekking uphill for 5 km. While the first three falls are easy reachable within 500 m with Thenpara Fall being the highest, for the others one has to hike via jungle and hills.
One of the most beautiful waterfalls in the Malabar region, these falls are quite a sight in the monsoon season. Two of its stream form the River Chalippuzha. If you plan to visit these falls, leave early morning.
Height: 246 ft.
Best Time to Visit: September – December
3. Meenmutty Waterfalls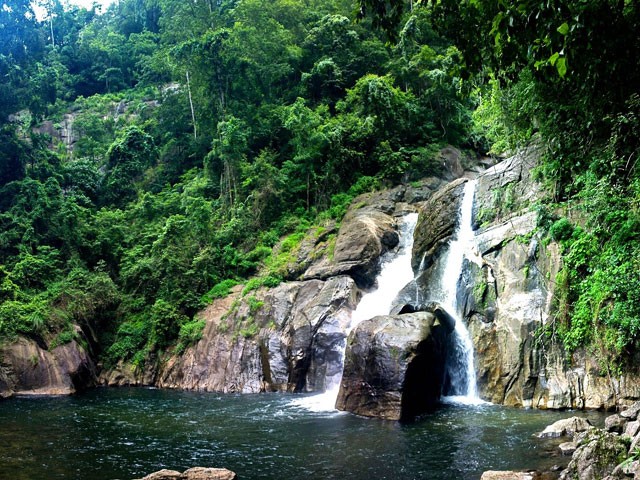 A three-tiered waterfall, Meenmutty waterfalls are located in Wayanad. It is one of the largest waterfalls in India. During the monsoon season, the waterfalls whoosh down with even more vigor, forming a wonderful sight. Sunset and sunrise views amid lush forests are awesome too. Plan a visit and have a wonderful time with your loved ones.
These waterfalls are quite popular amid trekking enthusiasts also. The trek takes you to through green valleys and lush forests. The falls can be visited between 08:00 AM and 05:30 PM. Other nearby attractions that can be visited are Kelpetta, Banasura Sagar Dam, Pookode Lake, and Wayanad Wildlife Sanctuary.
Height: 985 ft.
Best Time to Visit: October – May
4. Palaruvi Waterfalls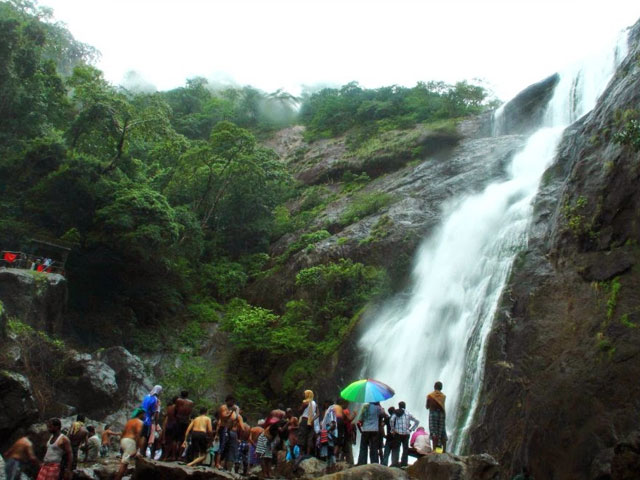 Offering a magical site for the on-looker, Palaruvi waterfalls looks like a stream of milk is falling in the shape of a horsetail. Quite popular as a picnic spot amid the locals and the tourists, this fall has a pool at its foot with water that has medicinal properties. It is said that by taking a dip in this pool, one does not only gets completely relaxed but also gets the cure for skin problems. The beautiful surroundings make it worthy of being in the list of 10 must-visit gorgeous waterfalls in Kerala.
Located in Kollam district, this fall is the 40th highest waterfall in India. Trek past thick jungles to arrive at the falls, if you love adventure. However, they are also accessible easily by road. The falls can be visited between 08:00 AM and 06:00 PM. Kollam, Ashtamudi Lake, Paravur Lake, and Thenmala Dam are the other sites that you can explore.
Height: 299 ft.
Best Time to Visit: June – January
5. Attukal Waterfalls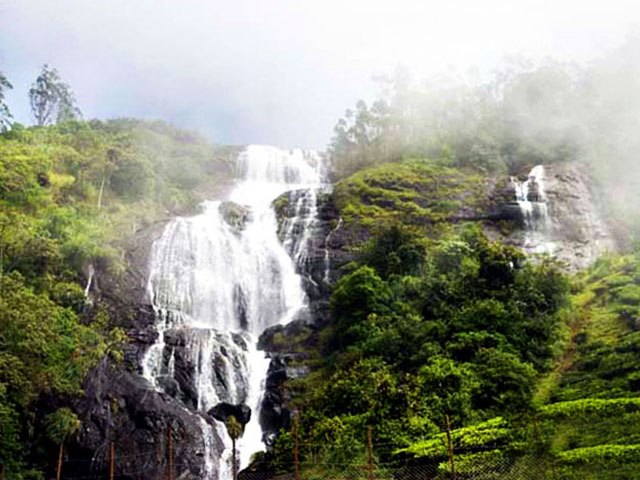 Attukal waterfalls, also known as Attukad waterfalls are placed amid Munnar and Pallivasal in Idukki District. Rocky terrain, thick jungle, and the hills make it an ideal sight for trekking. If you are trekking, you can also hire a guide locally. Long trekking trails and splendid scenery is unparalleled.
The falls are surrounded by rolling terrain and thick forests, which increase its magic all the more. They are located at a distance of 9 km from Munnar town and thus a visit can be planned easily for enjoying a picnic with your family. From 10 in the morning to 6 in the evening, you can visit these falls.
Height: 4160 ft.
Best Time to Visit: January – December
6. Vazhachal Waterfalls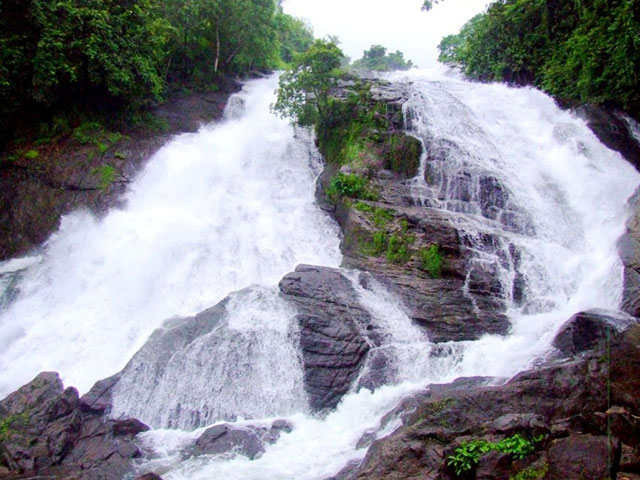 Located at a distance of just 7 km from Athirapally Waterfalls, Vazhachal waterfalls is a stunning site that lies quite close to Athirapally – Valparai Road. One of the most popular places to visit near Athirapally waterfalls, these falls are close to the entry of Sholayar forest range. Vazhachal forms on River Chalakkudy at a lower level than its counterpart. However, the magnificence is worth-noticing.
The natural surroundings of the falls are stunning. The falls cascade on a titled slope over 300 feet to plunge down into a big pool. But, as the flow is quite strong, swimming is strictly not allowed. It would be ideal to just enjoy the natural beauty. You can combine a visit to Chapra Falls, which is a seasonal waterfall, with a height of 63 feet.
Height: 42 m
Best Time to Visit: June – January
7. Soochipara Waterfalls
Also known as Sentinel Rock Waterfalls, Soochipara Waterfalls is around 13 km from Meppadi town and lies amid lush jungle. A popular attraction in Wayanad, it is one of the most famous waterfalls in South India. This is a three-tiered waterfall and gushes down from an altitude of 200 m, forming a large pool, perfect for swimming.
These waterfalls are accessible by a downward trek of 2 km through a rocky path. The surroundings are wonderful. On the way, lucky ones can spot a deer. Near the waterfall is a 200m high Sentinal Rock, known for offering opportunities of rock climbing. The falls are located on the scenic Meppadi and Soochipara Route.
Height: 656 ft.
Best Time to Visit: September – February
8. Cheeyappara Waterfalls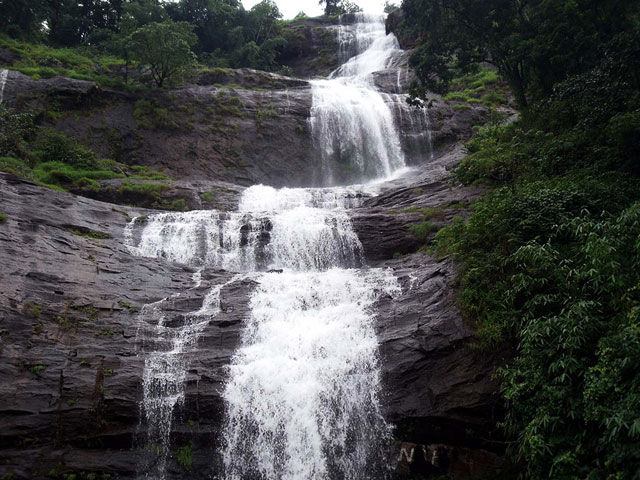 The wonderful Cheeyappara Waterfalls is one of the best options for a day-trip from Munnar. The falls lie between Neriamangalam and Adimali along the highway that connects Cochin and Madurai. These waterfalls gush down in seven steps and rush down from the altitude of 1000 feet above sea level. Due to amazing speed of the falling water, a mist is created all around.
It is one of the most beautiful falls in Kerala and is ideal for adventure enthusiasts as well as nature lovers. You can try your hands at activities like forest walks, trekking, and hiking. It also is one of the most famous exclusion sights in Cochin.
Height: 1000 ft.
Best Time to Visit: October to May
9. Thommankuthu Waterfalls
Thommankuthu waterfall is not only a captivating seven-level waterfall but also one of the known eco-tourism destinations in Kerala. Visitors can not only savor the splendid views but can also partake in a number of activities such as fishing. There is an amazing option of 12 km of trekking through pristine hills. There is a wooden tree-house from the top of which on can enjoy bird watching.
With the water of the falls, a number of pools are formed, creating a wonderful sight. The presence of a number of exotic flora and fauna can also be noticed. Old caves located nearby are also worth visiting. Visit the falls from 10:00 AM to 06:00 PM. In the vicinity, there a few other smaller as well as bigger waterfalls. The sight is around 67 km from Munnar.
Height: 300 ft.
Best Time to Visit: June-November
10. Aruvikkuzhi Waterfalls
Close to Kumarakom, Aruvikkuzhi Falls in Pathanamthitta district is small but a mesmerizing waterfall. This waterfall is known as a 'jewel in the crown' of Kozhencherry because of its mesmerizing beauty. It thus is one of the 10 must-visit gorgeous waterfalls in Kerala. Dense vegetation and lush green surroundings offer a soothing sight. Do not forget to click some wonderful pictures.
These falls have also been the shooting sight of a number of Malayalam movies. A peaceful family picnic can be organized here. Some of the popular places near the falls include Kaviyoor Mahadeva Temple, Paliakara Church and Muloor Smarakam.
Height: 100 ft.
Best Time to Visit: October to February
Find some amazing Kerala holiday packages here:
Related Posts:
Best Honeymoon Resorts in Kerala
Top 7 Trekking and Adventure Places in Kerala
The 15 Best Luxury Spa Resorts in Kerala
Top 10 Things to do in Wayanad
Top 10 Hill Stations in Kerala