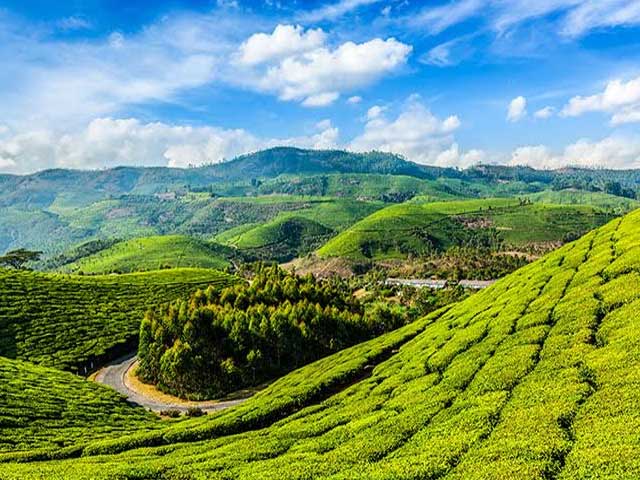 If you are in search of a destination which is bestowed with picturesque surrounding, then there is no better place than Kerala. Whether you are a nature lover, an adventure-enthusiast or a honeymoon couple, Kerala is one among those destinations which never disappoints its visitors.
Trip to Kerala would surely leave you with some cherishing and unforgettable moments. Blessed with divine beauty, hill stations in Kerala constitute major portion in Kerala tourism. Kerala boasts of several exotic locations and breathtaking attractions, alluring visitors from all parts of the world. The state has all what a traveler requires for a perfect holiday. It is one among the best places to spend some serene moments with your dearly loved.
Here are the 10 most beautiful hill stations in Kerala 'God's Own Country'
Munnar
Munnar is a wonderland for nature lovers. From charming lush farms to rejuvenating Ayurvedic treatments, Munnar has everything to keep a traveler engaged. Tea-factory visits, trekking, boating, paragliding, jungle safaris and cycling are highlights of Munnar.
Renowned for sprawling tea plantations, scenic Munnar is listed among the most travelled destinations in South India. This enchanting hill-station is settled in Idduki district in Kerala and boasts of numerous picturesque attractions.
One of the most important places to visit in Munnar includes Eravikulam National Park– home to rare species of Nilgiri Tahr, Stripe-necked Mongoose, Sambar deer and Golden Jackal. Another major attraction is the Anamudi Peak– highest peak of Western Ghats and South India. Other tourist spots you would definitely love to visit in Munnar are Chinnakanal and Anayirangal waterfalls (water cascades down from a certain height, relaxing all your senses), Mattupetty Dam (indulge in speed boat rides and horse riding) and the notable Tea Museum (the tea machines reserved here showcase the tea processing steps). Do not forget to buy the homemade chocolates and several Indian spices for which Munnar markets are famous.
[ Check-out the Best of Kerala Tour with Treehouse Stay ]
Idukki
Idukki is one among the 14 districts of Kerala settled at the top of Western Ghats. Surrounded by magnificent mountains, the region is a wonderful blend of high ranges and wooded valleys; enclosed by three pristine water bodies- Periyar, Thalayar and Thodupuzhayar. The scenic land holds some amazing places of interest, namely Munnar (well-known for lush tea and spice farms), Marayur (a great place for history buffs as they get to explore the relics of new stone-age civilization) and Thattekad Bird Sanctuary (one can spot some colorful feathered birds here).
You can explore amazing trekking routes in the dense jungles and spot some remarkable flora and fauna. The hill station Idukki is also famed for Asia's first and the world's second great arch dam; Idukki Dam. Further, scale the highest peak of Western Ghats and South India and adore the enchanting views of rivers, valleys, vast stretch of tea and spice plantations.
Thekkady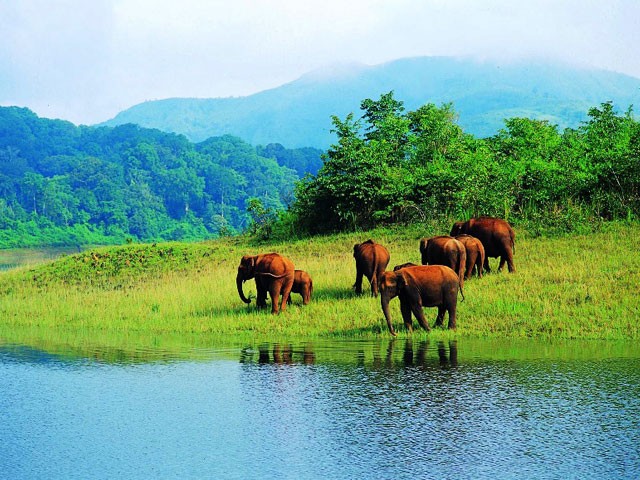 If you are a wildlife lover and adventure-enthusiast, then there is no better place than Thekkady for you. One of the most popular attractions Thekkady owns is the wonderful Periyar Wildlife Sanctuary. This is also counted among the finest reserves in India. Settled on the banks of beautiful Periyar Lake, Periyar Wildlife Sanctuary is notable and famed as an elephant reserve and a tiger reserve too. Well-known for its breathtaking beauty of lush forests, crystal clear streams, rolling and rocky terrains, the Sanctuary is home to some Asian Elephant, Tiger, Indian bison, Indian wild dog, Leopard and Barking deer. Furthermore the floral diversity of Periyar Wildlife Sanctuary is very high. The reserve is surrounded by tropical evergreen, semi-evergreen and moist deciduous forests all around. If time allows, you can opt to indulge in joyful elephant ride, boat cruise and jeep safari here.
[Check-out Kerala High Tea Spices and Backwaters Tour Package]
Vagamon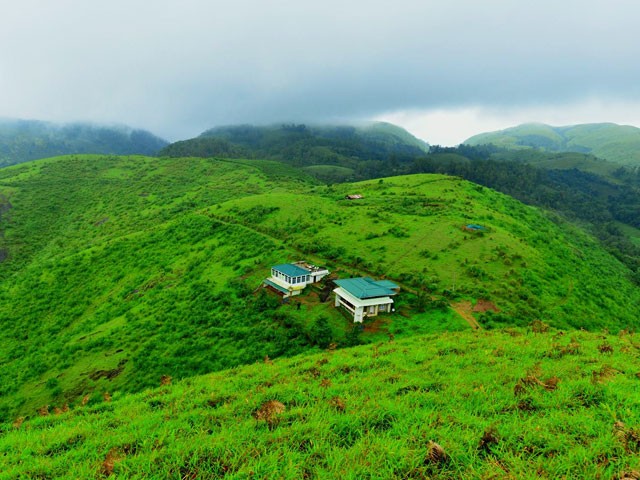 One of the most popular film-shooting spots and a major hill station in Kerala is Vagamon. The pleasing hill-station Vagamon was discovered by British rulers, who found the land ideal for tea plantations.
The green velvet lawns and cool breeze would surely leave you mesmerized. You can even indulge in a short trek across the chain of three hills, namely the Thangal hill, the Murugan hill and the Kurisumala hill.
Placed around 1200m above the sea level, lovely Vagamon is located in Kottayam-Idukki border and is bounded by endless green hills and tea farms. Set yourself free and enjoy meandering rivers, beautiful waterfalls and attractive tea gardens.
Some exciting adventures you can experience in Vagamon are paragliding and camping. Therefore, gorgeous Vagamon is perfect place to relax and relish some cherry time.
Nelliyampathy Hills
Nelliyampathy is one of the best hill stations in Kerala and known for its alluring scenery and salubrious weather which play a key role in making the visit of every traveler memorable. Roughly 55km away from Palakkad (gateway to Kerala), Nelliyampathy is blessed with lush farms of tea, coffee, pepper and orange. Further, on your way to Nelliyampathy from Nemmara you would come across many amazing hairpin road-turns.
The picturesque natural scenery of Nelliyampathy is worth beholding. Apart from being gifted with pleasant and serene ambience, the hill station is also noted for wide variety of fauna including wild animals like Monkey, Deer, Porcupine and Elephants. Take a stroll around the Parambikulam Wildlife Sanctuary, Pothundi Reservoir, Palagapandi Estate and Padagiri, to get the best of this place.
Wayanad
Well-defined from its ancient name 'Vayal Nadu' which means 'land of paddy fields', Wayanad is one of the most visited tourist destinations of Kerala. It is settled in North-East Kerala, at an altitude ranging between 700 meters and 2100 meters above the sea level. With the major production of cash crops like pepper, cardamom, coffee, tea and several spices, Wayanad is one of the prime hill stations in Kerala.
Foggy hills, dense forests, beautiful waterfalls, lakes, historical monuments, various shrines and fertile green agricultural lands attract large number of tourists from all parts of the world. The main highlight of Wayanad is its Wildlife Sanctuaries which own varieties of flora and fauna.
Chembra Peak offers interesting camping spaces and Neelimala is a trekker's delight. Other local attractions of Wayanad are Meenmutty waterfalls, Chethalayam, Pakshipathalam and Banasura Sagar Dam.
[ you may also check 3 Days Wayanad Tour with Vythiri Treehouse ]
Vythiri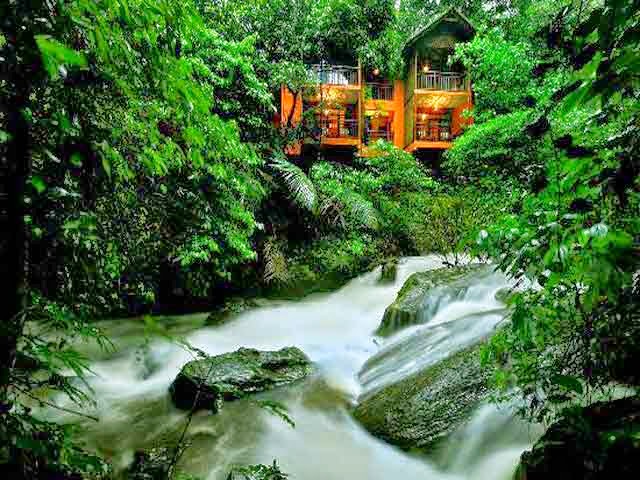 With a great fusion of alluring scenery and cool weather, Vythiri is a famous hill resort in Kerala. The destination has earned reputation of having beneficial Ayurveda centers in South India. Being the root to various natural remedies like Chinese medicine, Unani medicine and Polarity medicine, Ayurveda is really an amazing therapeutic treatment. Ayurvedic sessions here include yoga, diet, massage and exercise. There is an extensive use of herbs and oils for helping to rejuvenate and heal your body; restoring balance, good health and relax your senses.
Moreover, Vythiri has more in store with major tourist attractions, like Pookat Lake, a great place to enjoy some serene moments. One can enjoy boating on Pookat Lake. Thereafter, scale the highest peak of Western Ghat in Wayanad by opting for a day hike to Chembra Peak.
Other attractions of Vythiri include Menmutty Falls (falling in three separate tiers, water gushes down from a height up to 1000ft) and Bansura Sagar Dam (constructed in the Bansura Lake and holds a large expanse of water). Here, you can indulge in power boat rides, zigzagging between the tiny islands that speckle the lake face.
Devikulam
Located around 8km away from Munnar, Devikulam is a dazzling hill-station, placed around 1,800meters above the sea level. Devikulam is an idyllic trekker's paradise. Wholly surrounded by endless green meadows, Devikulam offers a remarkable view of rugged mountains, evergreen forests, velvet lawns and striking Flora and Fauna.
Devikulam means 'The Lake of the Goddess' and has derived its name from Devi Sita. Sita Devi Lake here has its own history which narrates about the grand bath of Goddess Sita in Devikulam Lake. The lake is also ideal for trout fishing. The tranquil ambience of the place makes it an amazing picnic spot too.
Some of the nearby attractions from Devikulam which you may opt to visit are Mattupetty Lake, Kundala Lake, Thoovanam and Kuthumkal Falls and Devikulam Tea Estate. you can plan your trip to Devikulam all year round, particularly from September to May.
Ponmudi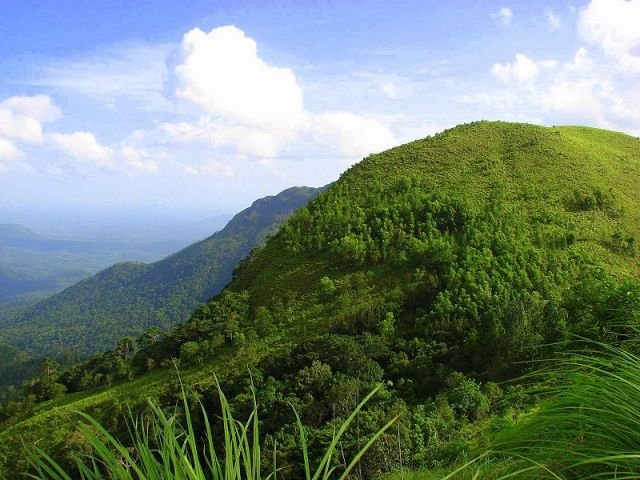 Located at a distance of about 52 km from the state capital (Thiruvananthapuram), Ponmudi is one of the most travelled hill stations in South India. The charming hill station Ponmudi offers you a scenic environment with different variety of orchids decorating the landscape, fluttering butterflies, birds chirruping and lush tea plantations. You can adore the well-arrayed rubber, coffee, pepper and cardamom farms. Meenmutty Falls is one of the most sought-after tourist spots here. Meenmutty falls, falling in three separate tiers, water cascades down from a height up to 1000ft. Furthermore, one must not forget that the place is reachable only after 2km trek through the forest from Wayanad. Another spotlight of Ponmudi is Agastyamalai Biosphere reserve; one of the most popular wildlife reserves in South India.
Ponmudi is blessed with abundant scenic beauty of magnificent mountains and forests; with best trekking routes. Other attractions of Ponmudi are mist-laden valleys, bright colored stone and wood cottages. Do not miss the Deer Park which houses varieties of deer.
Although, summers are ideal for trekking, the best time to plan a trip to Ponmudi is from October to March.
Silent Valley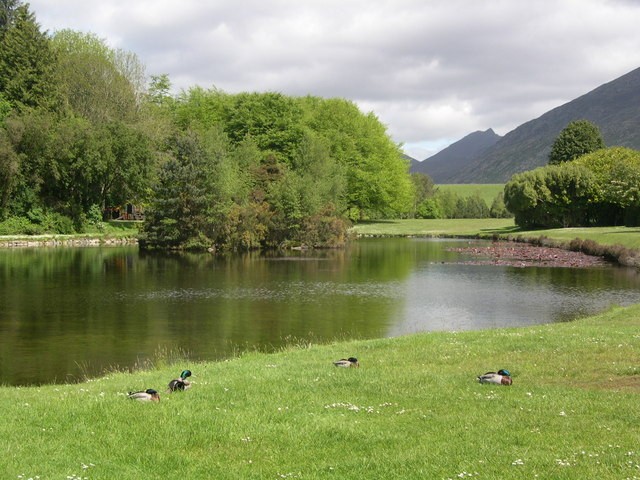 Though Silent Valley is not a hill-station, but this had to be listed in this article of Top Hill Stations of Kerala. The reason behind this is that Silent Valley is the very heart of Nilgiri Biosphere Reserve, which has been inscribed as a UNESCO World Heritage Site.
The very core of the Nilgiri Biosphere Reserve, Silent Valley is an extremely fragile reserve. It is home to over 1000 species of flowering plant that includes over 100 species of orchids. Besides the extremely wide range of flora, Silent Valley's rich biodiversity includes over 34 species of mammals, 150 species of birds, 128 species of beetles and 200 species of butterflies.
Silent Valley has been declared a national park and spreads across 90 square kilometers in the north eastern Palakkad district of Kerala. This reserve is also home to largest population of lion-tailed macaques.
A visit to this biosphere reserve requires prior permission from the Forest Department in Mukali. You can get the same by paying entry fee of INR 20 per visitor. Private hiring of jeeps from Mukkali to Silent Valley could cost INR 450. If you are using your own vehicle, the permission of the forest officials, as well as the payment of entrance fee of INR 100, is required.
Silent Valley also happens to be the starting point of different hiking routes. Kindly note: For adventure activities, prior permission is required and that this is a plastic-free zone.
Explore the beautiful hill stations of Kerala with below packages:
Related posts:
Top 5 Tree House Resorts in Kerala
Top 7 Trekking and Adventure Places in Kerala
Top 10 things to do in Munnar