If we talk about one of the most mesmerizing, most picturesque and most peaceful places in South India, Munnar invariably finds itself in the list. The vast fields of tea plantations, combined with most fascinating places, the incredible weather, rolling hills are simply irresistible. Munnar is now fast emerging as the most sought after destination for leisure travelers and here are best 10 wonderful things to explore and admire. If you have planned or contemplating an expedition to this exotic place then this article will be very useful for you. Indexing top things to do in Munnar, we have endeavored to make your trip as exciting and as engaging as possible. Read on to find out what awaits you in this beautiful place.
List of 10 Best Things to do in Munnar:
Tea Plantations: Picturesque Place

Tea plantations of Munnar are famous throughout the world. There are more than 50 tea estates in and around the Munnar and many different varieties of tea are grown here. The importance of Munnar and its potential as a tea growing area was first recognized by the British resident of the kingdom of Travancore. Later on many major players in tea industry came and established their base here.
The tea plantations, in addition to furnishing commercial benefits are also a major draw for tourists. The expansive wide fields of verdure with a sweet fragrance of tea pervaded all over are wonderful attractions. In fact tea plantation is the most widespread charm you will find here and it will definitely be one of most cherishing memory you will take from here.
Mattupetty Dam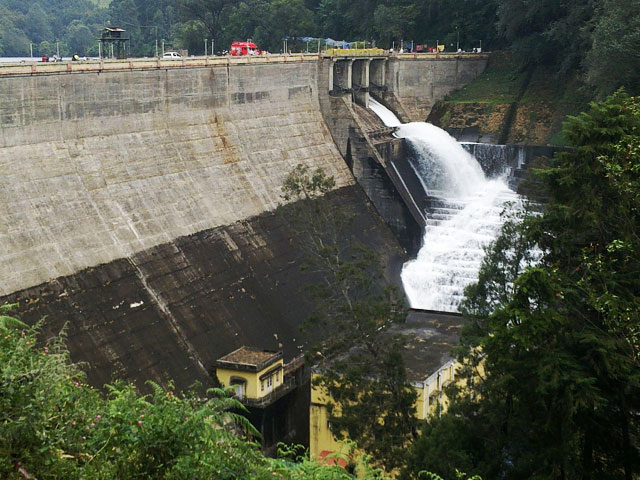 Built between the two hill ranges, the Mattupetty Dam is a serene and peaceful place for a family getaway. The dam is located around 13 kilometers from Munnar and is essentially a hydroelectric project. The still waters of this amazing lake wonderfully complements the lush surroundings and offer great tranquility.
The Dam, made of concrete, is the major source of electricity to Munnar. One can also see herds of elephants in the region as these are their visiting grounds. It is a remarkable picnic spot both the locals and visitors who arrive for holidaying in Munnar.

Echo Point: Picnic Spot in Munnar
As the name suggests, echo point is such a destination where one receives his or her echo of voice as they shout in the open surroundings. The place is located around 15 kilometers from Munnar and is one of the most interesting points if you have kids with you.
Besides this natural wonder, the place is also full of beautifully green landscapes and a quiet, serene environment, making you want to relax and absorb the peace. Also you may also get a chance to see and come close to the exotic wildlife of the area. Echo Point is also a picnic spot where locals come to take a stroll and enjoy the cool breeze. There are also some mesmerizing tea and coffee plantations surrounding the nearby area.

Eravikulam National Park: UNESCO World Heritage Site in Munnar
Spread in an expanse of 97 square kilometers, The Erivakulam National Park is home a diverse wealth of exotic flora and fauna. The park was declared a wildlife sanctuary in 1975 and a National Park in 1978. It is a natural habitat of the rare species of Nilgiri Tahr. The park is divided into three main areas-the core area, the buffer area and the tourism area. Private vehicles are not allowed, however, few buses take tourists deep into the forest.
Along with different varieties of fauna, the park also has about 120 species of birds. The national park is managed by Kerala Department of Forest and Wildlife and is also a UNESCO World Heritage Site. It's a great place to enjoy close proximity with nature and find some peaceful time away from urban distractions.

Top Station: Highest Point in Munnar
Situated almost 32 kilometers away from Munnar, The Top station is the highest point on the Munnar-Kodaikanal Road. The place lies just near the Kerala-Tamil Nadu Border. Its surroundings are heavenly and sights are simply mesmerizing. Here you can feel clouds passing just in front of you which you can also touch.
However, one of the most unique highlights of the Top Station are the famous Neelakurunji Flowers (Strobilanthus) which bloom once in twelve years and when this happens, all the valley gets covered in bluish hues. This also render this destination a unique aspect which is a great draw for travelers.
Located at the stunning height of 1700 m, Top point offers great views of the Western Ghats. The best time to visit Top Station is from April to May. Buses and Cabs are easily available from Munnar to this exquisite place, which is definitely a must visit place in Munnar.
Attukal Waterfalls:
A mesmerizing sight of flowing waters can be found with Attukal Waterfalls. The falls, although visible in their full glory only after monsoons, are nevertheless a captivating site to visit. It is situated approximately 9 kilometers away from Munnar.
The site is surrounded by mesmerizing forests and verdant terrains. The sight of white waters and rolling hills is very enthralling to visitors while there is also an option for trekking for adventure lovers. The nearest airport for reaching Attukal Waterfalls is Cochin International Airport, which is approximately 101 kilometers away.

Salim Ali Bird Sanctuary:
Also known as the Thattekad Bird Sanctuary, the Salim Ali Bird Sanctuary is one of the most important and admired bird sanctuaries in the country. Named after the well-known ornithologist and bird specialist Dr. Salim Ali, the sanctuary is home to a huge variety of indigenous and migratory birds, who come here for wintering.
Situated around 73.5 kilometers from Munnar, the sanctuary is doubtlessly one of the must-visited places. With its spread over 25 square kilometers, different kinds of birds, such as Malabar grey hornbill, Nilgiri Wood Pigeon, Sri Lankan frogmouth, rose billed roller, crested serpert eagle and nearly 270 more avian species can be found here. Like a heaven for a bird enthusiast, the sanctuary can be best accessed during the months of October and March when the weather is pleasant and most of its diverse birds are also present.

Rajmala: Best for Nature Lover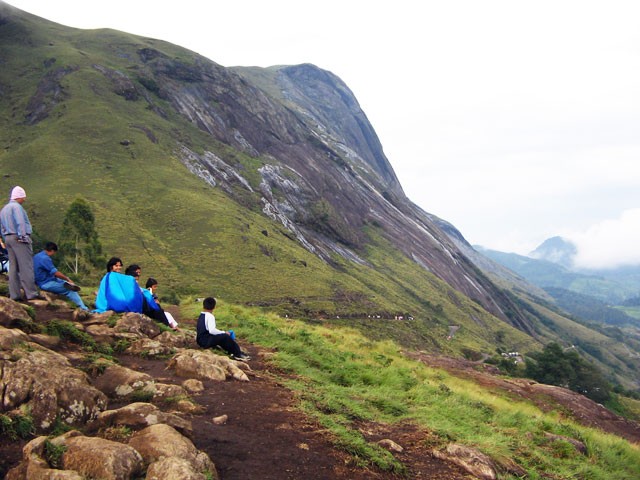 A part of Eravikulam National Park, Rajamala is an excellent destination for adventure travelers as well as Nature lovers. The place is a natural habitat of Nilgiri Tahr, one of the rarest species of animals on Earth. Located at a distance of 15 kilometers from Munnar and nearly 2,000 m above sea level, Rajamala enthrall tourists with its unique charm.
Enveloped in verdant greenery, the salubriously pleasant climate will make you fall in love with this place and will make you want to stay here forever. Discover a unique facet of Munnar by visiting this wonderful destination.

Kundala Lake: Artificial Lake in Munnar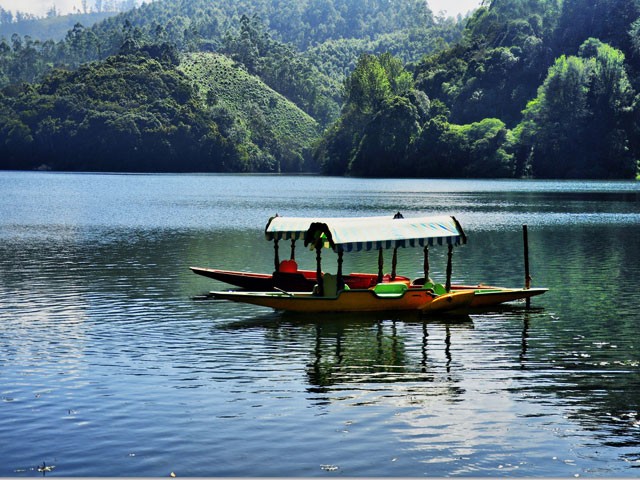 Located around 20 kilometer drive from Munnar, The Kundala Lake is an artificial lake with several charming attractions. A wonderful spot for enjoying a day out for picnic, there are several options for boating at Kundala. The most famous activity here is the fascinating shikara ride, the experience of which feels same as that in Kashmir. Surrounded all over by captivating low hills and lush verdure, The Lake is also flanked by a dam which another major attraction here.
Besides the famous Neela Kurunji flowers, which grow around the lake and which bloom once in 12 years are also quite alluring. One can easily reach Lake Kundala by Buses, Cabs and Taxis from Munnar.

[ Read More Things to do in Kerala]
Tree House: Unique Stay in India
Tree houses in Munnar are another great attraction which cannot be afforded to be missed. Perched high up on an expansive tree, a tree house has all the facilities of a hotel accommodation. However, the experience of living in a tree house is very different from living in a hotel of concrete.
In addition to being an eco-friendly accommodation, the sound of chirping of birds, natural fragrances and views from high up a tree are simply great. A stay in the tree house is definitely one of the most memorable and unique adventures of a lifetime and hence must be experienced.
[ Check-out Best of Kerala Tour with Treehouse Stay ]
Related posts:
Top 10 Hill Stations in Kerala
Top Things to do in Kumarakom