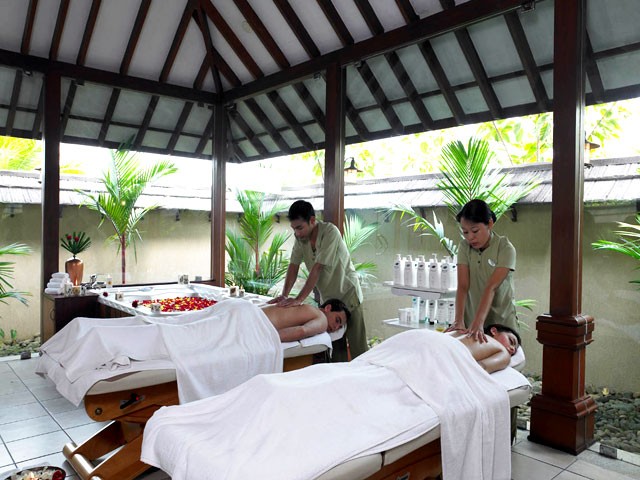 Ayurveda and Spa have always been one of the major attractions of Kerala state. Luxury spa resorts in Kerala continuously allure city dwellers from all across the world to relax and rejuvenate all their tired senses. This south Indian state is peppered with a number of Ayurveda resorts, offering exceptional age-old Ayurveda treatments, massages and therapies.
Not only the services are hospitable but the ambiance too is serene and perfect for desirable results. High-end properties also club, yoga and meditation sessions with this. If you wish to splurge on luxury while relaxing all your senses, we have a number of options for you. Here, we enlist the 15 best luxury spa resorts in Kerala:
1. Niraayama, Kovalam
Winner of 'The Best Heritage Hotel in Southern Region' by the Government of India, Niraamaya Retreats Surya Samudra in Kovalam completely spoils you. Ayurveda therapies and massages offered here are an amalgam of age-old traditions of India and other wellness therapies from across the globe.
The resident doctors and therapists are experts in traditional Asian therapies, reflexology, as well as Thai and Western techniques. Yoga sessions are also organized. Spa doctor devises meals and therapies as per one's need. There are special treatments for weight loss, detox, stress management and skin problems.
Other facilities: 31 heritage cottages with open-air bathrooms. Café Samsara, Essence and Madira are the dining venues for memorable meals.
[Find the list of other Best Hotels in Kovalam]
2. Blue Ginger Spa Resorts, Wayanad
Set amid the beautiful and lush hills of Wayanad, the Blue Ginger Spa Resort rejuvenates your mind, body and soul with its perfect tranquil ambiance. The Ginger Spa at the resort specializes in world-class spa treatments and well-crafted therapies in hydrotherapy, stone therapy, solar therapy and more. Relaxing massages are offered by experienced and well-trained masseurs, guaranteeing complete rejuvenation to you. Some of the other treatments here are Oriental treatments, beauty treatments, therapies for couples, hair and scalp therapies etc.
Other facilities: This spa resort has well-furnished Superior rooms with all modern comforts. There is also swimming pools, outdoor activities, a multi-purpose hall, a health club and a relaxation lounge here. For food needs, head to the multi-cuisine restaurant.
[Find more Luxury Hotels and Resorts in Wayanad]
3. Kumarakom Lake Resort, Kumarakom
Four-time winner the 'World Travel Award' in the category of a leading resort, Kumarakom Lake Resort is one of the best heritage resorts in Kerala. The resort offers excellent therapeutic facilities at the Ayurmana, the in-house heritage retreat for complete Ayurvedic healing.
An amazing blend of luxury hospitality and the oldest science of Kerala, Ayurmana healing center holds expertise in a number of treatments and therapies. Panchakarma, Rejuvenation, De-stress package, Weight reduction, Beauty-care treatment, Yoga and Meditation are arranged here.
Other facilities: The resort spreads in an area of 25 acres and houses 59 uber-lavish suites, villas, rooms and houseboats, inspired from 16th century Kerala homes. Ettukettu is the on-site multi-cuisine restaurant here. There is a fitness center, infinity swimming pool, conference room, activities on lake and more.
4. Kairali Ayurvedic Healing Village Health Resort, Palakkad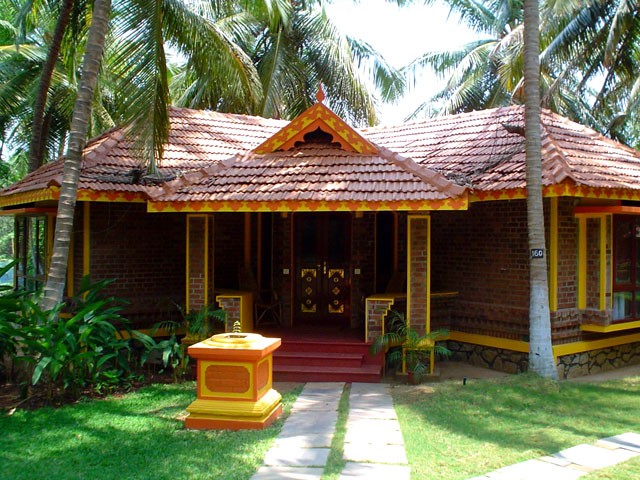 Winner of several awards and accreditations, Kairali Ayurvedic Healing Village Health Resort in Palakkad offers a mix of nature, wellness and rejuvenation. The prime aim of the experts here is to provide complete holistic wellness. The spa and Ayurveda menu here is inclusive of a vast variety of therapies.
Some of the treatments offered here are for Sinusitis & Migraine, Beauty & Eye Care, Preventive & Regenerative Treatment, Detoxification, Stress & Strain, Nervous Disability Weight Loss, Hypertension, Slip Disc, Skin diseases, Panchkarma etc. The location of the resort is charming too.  Ayurveda training is also offered here.
Other facilities: Accommodation here is in the form of elegant villas and suites, inspired by Vastu Shastra. The setting is traditional but the services are world-class and modern. White Lily and Ottupura are two restaurants serving dishes from Indian and World fares. There is a Curio shop for buying memorabilia. There are indoor games like billiards. Other additions are library, fitness center, swimming pool, and business center.
5. Shinshiva Ayurvedic Resort, Trivandrum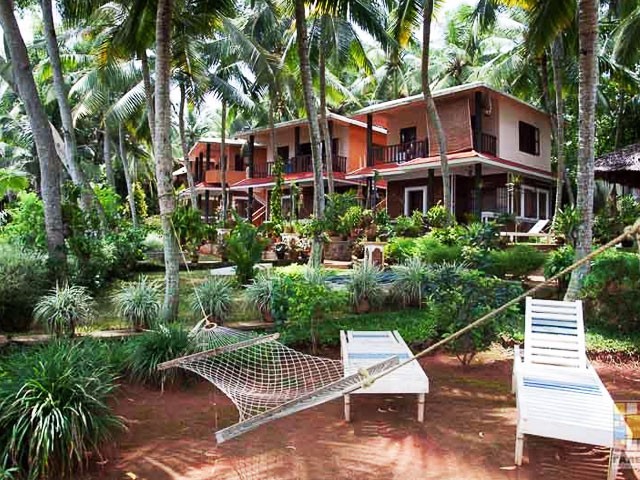 An oasis of luxury and peace, Shinshiva Ayurvedic Resort is placed in Chowara, quite close to the very popular Kovalam beach. The resort is run by a family who has been in Ayurveda for 400 years. By using age-old therapies, treatments and massages several ailments are treated by clubbing them with Yoga and meditation.
Trained doctors and masseurs assist Dr. V. Franklin, a veteran Ayurvedic practitioner in treating rheumatism, hemiplegia, sports injuries, brain diseases, paralysis, urogenital diseases, mental problems, infertility, nervous disorders, immune deficiency, and so on. There are packages for slimming and beauty care also.
Other facilities: The property has well-equipped and well-furnished Kerala Bungalows, available on the package duration you require. Other comforts are a restaurant, leisure area, herb nursery, well-maintained garden etc.
6. The Raviz Resort & Spa, Ashtamudi, Kollam
The amalgamation of tranquil ambiance, excellent Ayurvedic services and traditional architecture, The Raviz Resort & Spa is placed on the backwaters of Lake Ashtamudi, Kollam. The resort has a huge wellness center (one of the biggest spas in Kerala), offering therapies and treatments, based on thousands of years' old traditions.
There are classic Ayurveda therapies like Shirodhara, Pizhichil, and Kati Vasti, etc. Sessions on Yoga, meditation and Mudra are also organized. Packages for detoxification, rejuvenation, beauty and anti-aging are also available. You can also opt for beauty care services such as tanusree, mukhleepam and Keshini.
Other facilities: The property has 93 rooms, suites, cottages and villas. Every accommodation has a wonderful décor and has all the world-class conveniences. Zirkon and Keeraleeyam are two on-site restaurants where you can enjoy memorable meals. There are conference halls and wedding spaces.
[You may also check 12 Picturesque Backwater Resorts in Kerala]
7. KTDC Tea County, Munnar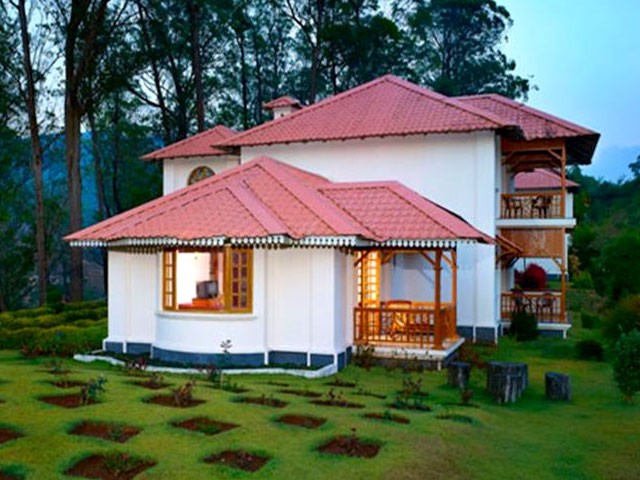 Placed amid two lofty hills, close to sprawling tea plantations, KTDC Tea County Munnar is known to be placed amid a dream-like setting. The property is known for offering excellent Ayurveda services to its visitors. The list of Ayurveda therapies, treatments and massages is quite long. The property also has a special Ayurvedic herbal body toning parlor. The doctors and therapists are trained and offer therapy as per your need.
Other facilities: 67 in total, the accommodation is segregated into rooms and suites. There are a number of conference halls. The in-house restaurant features a dancing floor and beer parlor is fully stocked. Some of the other amenities are a health club, indoor games and sightseeing arrangements.
[Check-out other most popular hotels in Munnar]
8. Athreya Ayurvedic Resort, Kottayam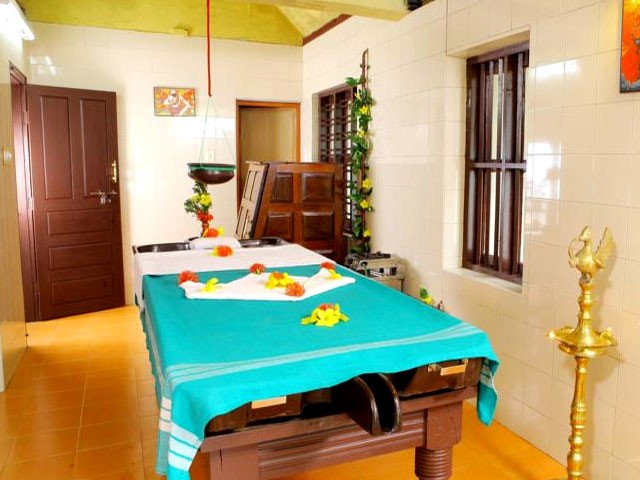 Located on the outskirts of the backwaters of Kerala, amid lush paddy field, Athreya Ayurvedic Resort is known to be one of the best Ayurveda resorts in Kerala. The Ayurvedic doctors customize special therapy as per your need. It is owned by a family of Ayurveda doctors. Along with Ayurveda therapies, Dental care services and Yoga classes are also organized here.
At Athreya Ayurvedic Center, Panchakarma, a detox and regenerative therapy packages are offered. The ancient Kutee Praveshika Rasayana is the specialty here. Food is also prepared as per Ayurveda's principles.
Other facilities: 16 guest cottages are placed amid the centers' own herbal garden. Not only are the cottages well-equipped but the views are wonderful too. The restaurant serves sumptuous delicacies during all meals. Enjoy cultural programs and visit to the nearby cardamom and tea estates. There are arrangements of indoor as well as outdoor games are also made.
9. The Zuri Kumarakom Resort & Spa
Lying on the banks of Kerala's longest lake, Vembanad Lake, The Zuri Kumarakom Resort & Spa lies on lush 18 acres of land. The Maya Spa offers complete pampering to all your senses. The menu includes a number of Ayurveda massages, different types of skin therapies and a variety of eastern as well as western therapies.
There are beauty services, scrubs, wraps, massages, facials, Ayurveda therapies, special packages and more. The expert therapists, doctors and masseurs use Ayurvedic, Oriental and Western systems of healing and rejuvenation. This 5-star property has all the comforts.
Other facilities: 72 rooms, cottages and villas at Zuri offer a contemporary-stay, where the guests can enjoy modern facilities. There are a number of dining venues where lip-smacking delicacies from world-over. You can book a venue for a wedding or any other private affair. The property also has a fully-equipped conference and business halls.
10. Le Meridien, Kochi
Huddled within sumptuous greenery and calm backwaters, Le Meridien is one of the most popular luxury resorts in Kochi. It mixes holistic wellness with luxury stay. At Le Revive Spa, you can refresh you mind, body and soul with authentic Ayurveda therapies. The natural holistic services offered here work towards restoring the complete well-being of the person. Doctors, masseurs and therapists offer customized treatments, medicines, and meals. Get completely refreshed and forget all your tiredness.
Other facilities: The hotel has 223 rooms and suites that have a wonderful décor and have all the modern comforts. Longitude 76, Ember – Museum Restaurant, Latest Recipe, Éclair and Le MÉRIDIEN Sparkling are the dining venues for world-class sugary and savory delights. All the modern facilities and amenities are provided to the guests.
[Check-out other popular hotels and resorts in Kochi]
11. CGH Coconut Lagoon, Kumarakom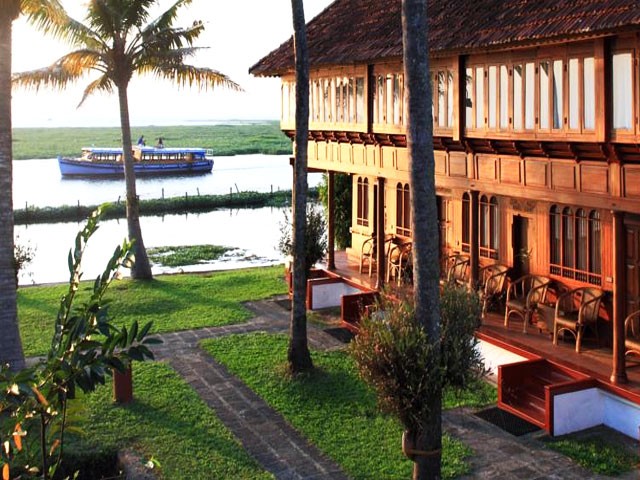 One of the best luxury spa resorts in Kerala, CGH Coconut Lagoon is an Ayurveda health resort, which is a pure bliss. The property lies on the banks of Vembanda Lake. Its Ayurveda spa practices age-old therapies of Indian science of life. The holistic therapies do not have any side effects. The therapies are completely natural, providing harmony amongst all the senses. The expert 'Vaidya' (therapists) devises special package according to your need. Classes of Kalarippayattu, martial art of Kerala, are also organized here. Enroll yourself in Yoga and Meditation sessions.
Other facilities: Fitness center, swimming pool, Wi-Fi, visit to bird sanctuary etc. are some of the added comforts here. There are basically 3 types of accommodation, Heritage Mansions, Heritage Bungalows and Private Pool Villas, boasting of a wonderful rustic décor. At Ayemenem, the lakeside restaurant and at the lakeside grill, savor Kerala delights and seafood dishes.
[Here are more best hotels and resorts in Kumarakom]
12. Nattika Beach Ayurvedic Resort, Thrissur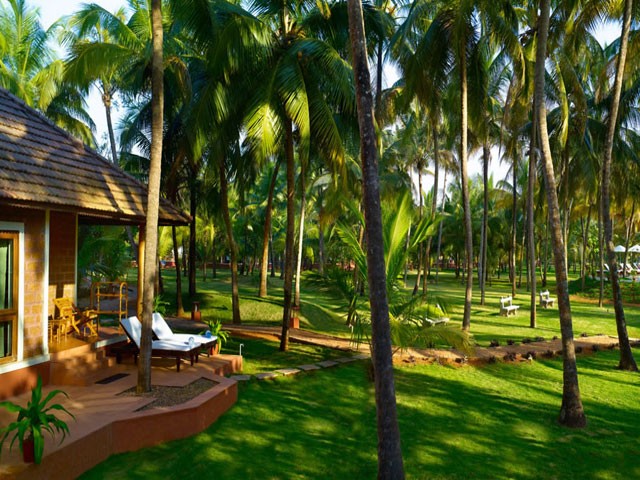 Spread in an area of 16 acres of lush land, Nattika Beach Ayurvedic resort offers unforgettable holistic experiences. Founded in October in 2010, Swastha Ayurveda Center has a whole range of body wraps and scrubs, traditional therapies, massages, and modern treatments.
The medical team consists of the main doctor, six assisting doctors and fifty one expert masseurs. They are skilled Ayurvedic, Kalari and Reflex massage techniques and aim towards bringing a harmony in all senses. Also go for soulful yoga and meditation sessions. The center consists of 6 treatment rooms and 2 steam bath chambers.
Other facilities: The resort has 52 villas set in a lush lawn, which is dotted by swaying coconut trees. Each villa comes replete with modern comforts. You can enjoy other comforts such as Jacuzzi in the swimming pool, a stocked souvenir shop and special cultural programs. At the on-site restaurant Vapika, relish healthy and tasty Ayurveda inspired food, prepared from freshest of ingredients.
13. The Windflower Resort & Spa, Vythiri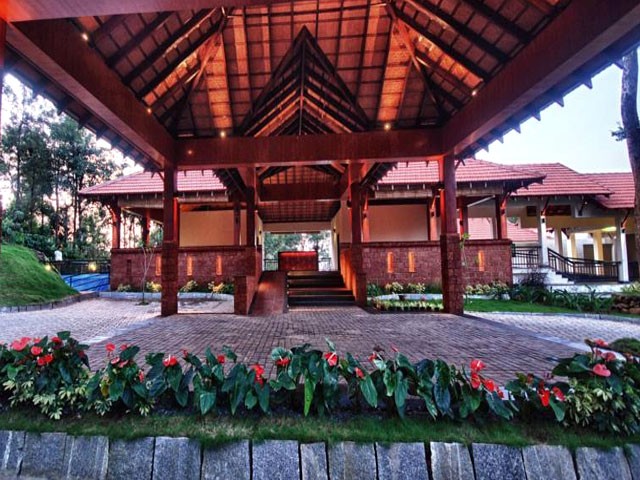 Placed on a hilltop amidst serene tea and coffee estate, The Windflower Resort & Spa is going to be an amazing amalgam of picturesque views and relaxing Ayurvedic sessions. The Emerge spa at Windflower is an award-winning spa, which collaborates Ayurvedic ideals of holistic therapeutic massages and healing through their varied 22 treatments such as Shastika Shali Pinda Sweda, Abhyanga and so on. Balinese European therapeutic massages are the other specialties.
Other facilities: The property has luxurious suites and villas offering picturesque views of the surroundings. At the on-site multi-cuisine restaurant, the chef serves finger-licking world-cuisine platter. However, local dishes are the highlight. There is an activity room with board games. For adventure lovers, there are outdoor activities. You can also relax by going for Steam, Sauna and Chilled Shower.
14. Vythiri Resort, Wayanad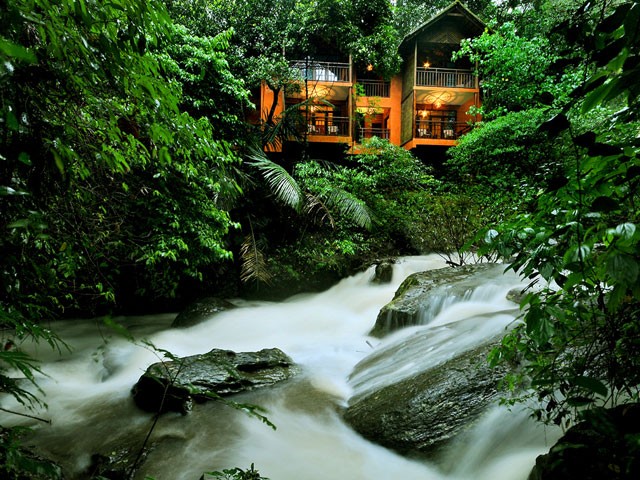 Boasting of a paradisiacal setting, Vythiri resort lies amid the verdant tropical rain forest and has an ideal location for gaining the benefits of Ayurveda and Spa therapies. Grouping of traditional Ayurveda with modern rejuvenation techniques and Aroma Therapy, the Vythiri Spa has a vast menu that includes facials, massages, baths, scrubs, firming, manicure and pedicure, and toning.
You can also buy some wonderful spa products from the spa boutique. The special Ayurveda massages bring balance in your mind, body and soul. The on-site doctors and therapists are expert in their fields.
Other facilities: Cottages, Villas and Tree Houses form the accommodation at this resort. Every property has an amazing setting and views, and come with wonderful lush vistas. The resort also features a multi-cuisine restaurant and a coffee shop. There are other conveniences like conference hall, kid's park, swimming pool and health club.
15. Uday Samudra Leisure Beach Hotel, Kovalam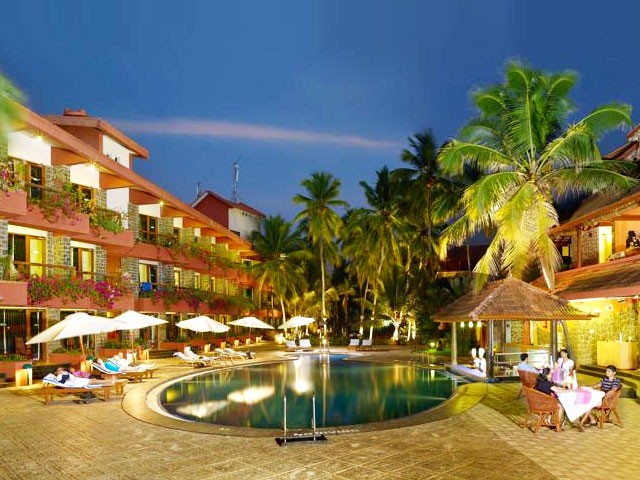 Lying at a distance of just 15 m from the famous Kovalam beach, Uday Samudra Leisure Beach Hotel offers all kinds of luxuries and comforts under one roof. Here, AyurAshram has a typical Kerala heritage architecture and employs qualified, experienced doctors and practitioners.
Some of the treatments offered here are Rejuvenation Therapy, Body Immunization Therapy, Body Purification Therapy/Panchakarma Program, De-Stress Therapy, Beauty Care Program, Anti-Cellulites Program, Body and Mind Relaxation. The Spa follows Thai principles and has beauty, wellness and health packages for you. There is steam shower, cold and hot Jacuzzi and lavish massage rooms.
Other facilities: The huge beach hotel has 225 plush rooms and suites, featuring all kinds of world-class comforts. Guests can have a fine-dining experience at this various dining venues. Enjoy facilities and amenities such as wellness center, salon, health club, dental clinic, cookery classes, conference rooms, cultural programs etc.
Plan your Ayurveda tour to Kerala with below packages:
Related posts:
15 Best Beach Resorts in Kerala