There are numerous adorable places to visit in Kerala in December. The coastal state is perfect for relaxing, adventure and new experiences in this particular month. The warm, pleasant weather and add to it the best places to visit in Kerala, you are set for a wonderful December vacation. God's Own Country has its share of fun. Tropical beaches, emerald hill stations, languid backwaters, exciting wildlife sanctuaries, and a host of pleasures await. Forget the chills of winter as you arrive in Kerala.
Here is the list of 10 Best Places to Visit in Kerala in December:
1. Alleppey – Pristine 'Venice of the East'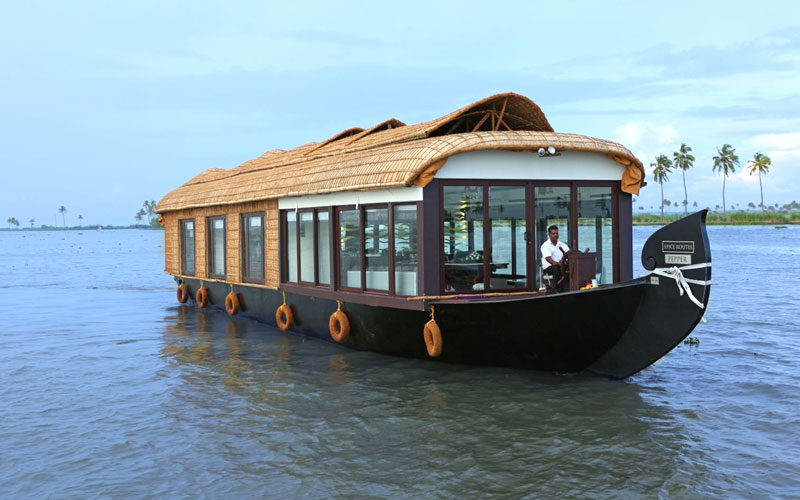 Synonymous with emerald backwaters, Alleppey also known as the Venice of East is one of Kerala's best places to visit in December. Of the best things to do in Kerala is, to enjoy a ride and stay in a houseboat in the backwaters and Alleppey offers the incredible experience. The weather is at its best and one can enjoy the scenic surroundings.
Watch the serene views of water lilies, ducks, and villages passing by. There is also a ten-day colorful festival called Mullackal Chiraq held here in December which is a fun event to witness. Do not miss to explore the beach. Ayurvedic treatments are also worth your time. Indulge in the pampering of holistic sciences. Relish traditional Kerala cuisine wrapped in banana leaves. Try out kayaking. Alleppey warms your soul with fond remembrances.
[Explore our customized Alleppey Tour Packages]
2. Munnar – Getaway in the Western Ghats
Munnar is a popular hill station in South India. It is one of the best tourist places in Kerala. Snuggled in the lap of clouds, about 6000 about sea level, it has exclusive views of lush mountain slopes. Covered in tea farms, the misty valleys offers a relaxed ambiance. Munnar was once the summer season of the erstwhile British settlers. The elevation, slope, and alignment of the hills were particularly designed for the farming of tea. There are also a lot of waterfalls and hiking routes in Munnar for adventure-seeking guests.
Munnar is one of those unique hill stations in India with an old-world colonial feel to the area. December adds to the lure. Families, couples and adventure lovers are fascinated by the charms.
[Check out our well crafted Munnar Tour Packages]
[Also read: Top 10 Things to do in Munnar]
3. Kovalam – A Slice of Beach Fun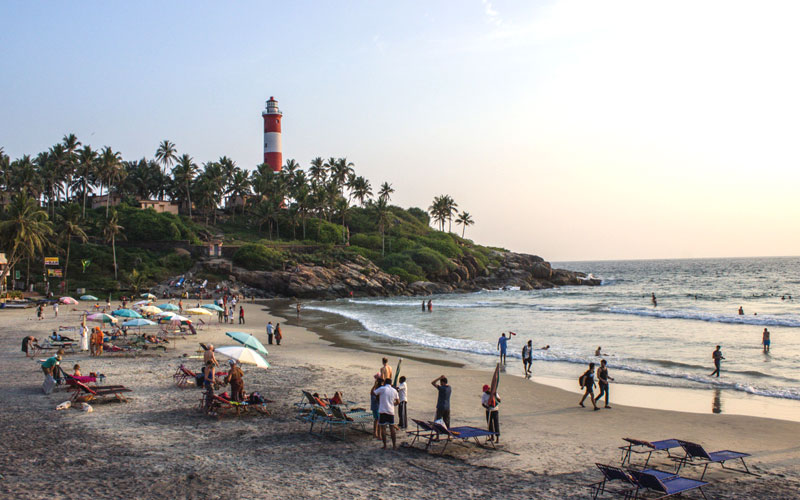 A holiday in Kerala in December is incomplete without a beach. Kovalam is Kerala's most developed beach resort and one of the unmissable attractions. The seashore is beautiful and equipped with a million wonderful things to do. Kovalam has three crescent beaches. The main stretch, Lighthouse Beach, is touristy with hotels and restaurants built up along the shore, while Hawa Beach is usually crowded with day-trippers.
Less than 15 km from the capital, Kovalam is a convenient place to have some fun by the sea. The warm sun, promising surf, Ayurvedic treatments, and yoga courses create a memorable holiday in Kerala in December. Savor the delights of the beach. The warm weather tempts you to bask in the sun, sip drinks of your choice, and relax in the blissful setting.
[Browse our the best Kovalam Tour Packages]
[You may also like to read 12 Best Beaches in Kerala]
4. Thekkady – Thrill of Wildlife Adventures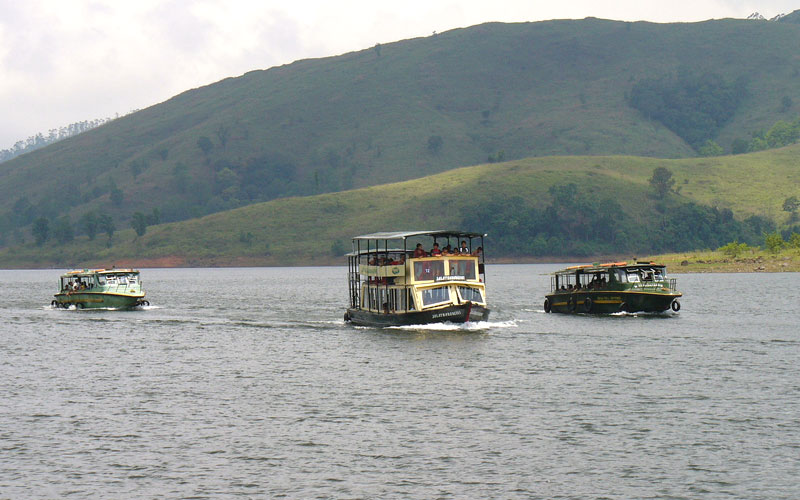 The cool weather in the month of December adds a pleasant appeal to Thekkady. Popular for Periyar wildlife sanctuary, Thekkady is a haven for various species of animals including elephants, tigers, sambars, gaurs, and the very rare lion-tailed macaques. The forest is situated on the banks of the lake, Periyar. The 777 sq. km. area of evergreen forest is one of the best places to visit in Kerala. Thekkady's scenic beauty along with its wildlife is the reason to go exploring. From the mighty Indian elephant to the Great Indian tiger to leopards, bears, bison, deers, and many more, Thekkady has it all.
Do go for treks in the jungles either on feet or on top of elephants. Boating in Periyar Lake is also a popular past time for most tourists.
[Check-out Top 15 Things to do in Thekkady]
5. Wayanad – Green Paradise in God's Own Country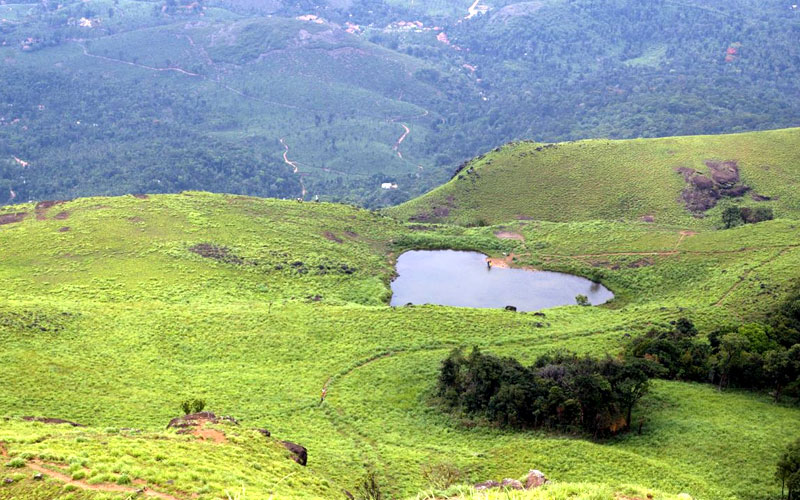 Wayanad, 'Green Paradise' is one of the best places to visit Kerala in December. Calm and quiet, enriched with scenic beauty, tradition, and wildlife, Wayanad is a blessing of nature. December particularly is one of the best times to visit Wayanad. Perched at an altitude of 2100 meters above the sea level, it is a picturesque hill station. Mists cover the sleeping hamlet in this season. The panorama is truly spectacular. The rich tribal heritage lifestyle of over fifty tribes and agricultural abundance are also appealing.
Wayanad altogether has many exotic attractions. Go exploring the Chembra Peak, Edakkal caves, Banasura Sagar dam, Wayanad Wildlife Sanctuary, Lakkidi, Tusharagiri Waterfalls, Kalpetta, and Sentinel Rockfalls. Trekking and mountain expeditions are popular adventures. The blissful weather makes cherished experiences whether you go with friends, family or your loved ones.
[Explore Top 15 Things to do in Wayanad]
6. Kumarakom – Backwaters Haven of Kerala
If you are seeking the bliss of a village in Kerala, the backwaters, fresh coconut water, and authentic Kerala food, Kumarakom is the place you should be. One of the best places to visit in Kerala in December, this slice of heaven tempts visitors throughout the year. Situated near the Vembanad Lake, Kumarakom is a sleepy little hamlet. The backwater destination is blessed with exotic scenery, rare flora, and fauna. The place offers boating, houseboat cruising, fishing, and sightseeing.
Spend some time here and you shall understand why Kerala is named God's Own Country. The Kumarakom Bird Sanctuary is one attraction you cannot miss. Spread across 14 acres, the sanctuary accommodates varieties of birds including wild duck, egrets, herons, cuckoo, waterfowl, and also migratory birds. Experience nature's beauty this holiday.
[Also check Best Things to do in Kumarakom]
7. Kochi – Queen of Arabian Sea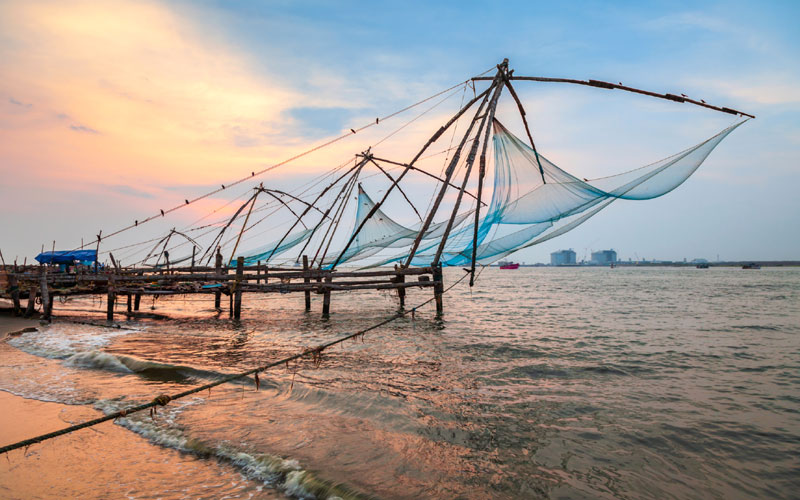 The Queen of Arabian Sea, Kochi is a significant tourist attraction in Kerala. The beach city with centuries of history is one of the places you must visit in December. This city is a testimony to the history of India. It was one of the first harbors in India. The spice trading hub of ancient days, Kochi is the merge of different cultures, traditions, and religions.
Kochi is perfect for nature lovers, history buffs, photographers and wanderers. Fort Kochi has much to offer, in terms of art, history, food, and religion. Museums, palaces, synagogues, Hindu temples, churches, heritage buildings, art galleries, parks, beaches, roadside cafes, and so much more awaits to be explored. The main attractions include Fort Kochi, Mattancherry, Chinese fishing nets, Jewish Synagogue, etc.
[Here are 15 Best Places to Visit in Kochi]
8. Thrissur – Cultural Capital of Kerala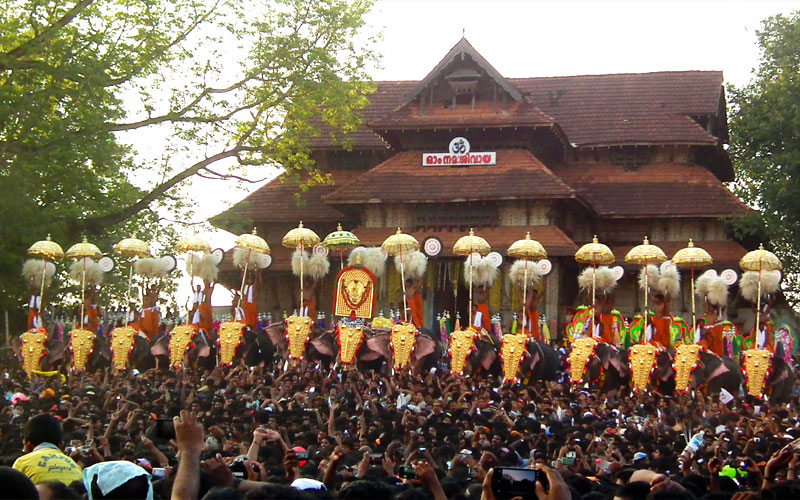 For a dose of Kerala's rich cultural heritage, this December plan a trip to Thrissur. The cultural capital of Kerala, Thrissur is a cherished experience. The city is synonymous with the spectacular Temple Pooram Festival. The city is at its pleasant best in December, making it one of the best places to visit in Kerala. The city has several culture centers including the Kerala Kalamandalam, Sahitya Academy and Sangeetha Nataka Academy.
Marvel at the city's rich legacy of Kathakali. The elegant dance form performance is sure to spellbind you. Go exploring the old temples and churches that are replete with beautiful carvings and murals. Savor the authentic platter of Kerala's mouthwatering cuisine. Shop for local handicrafts and good quality silk textiles which you can take home as a memory of the city.
9. Vagamon – A Little Known Secret Close to Heaven
Mists of December make Vagamon one of the unmissable tourist destinations of Kerala. The enchanting hill station draws visitors with its unspoiled natural beauty. Studded with meadows, gardens, tea plantations and valleys, Vagamon is one of the most beautiful hill stations in India. What makes Vagamon extraordinary is a chain of hills contemplating religious harmony. The unmissable delights include Thangal Hill, Murugan Hill, and Kurisumala.
Be it family, friends or your love done, enjoy the blissful weather. There are wonderful sightseeing options. Go exploring the forest, meadows and the tea plantations. Waterfalls make a beautiful sight. Spiritual bliss is a rare pleasure. Adventure seekers can opt for trekking, paragliding or rock climbing. You can also plan a short getaway as Vagamon is one of the offbeat locales in Kerala.
10. Varkala Beach – Tropical Bliss on the Shores of Kerala
The amazing slice of shores along the Arabian beach, Varkala beach is a slice of tropical heaven. The seaside is a well-known getaway in Kerala in December. This is one of the offbeat locales in Kerala that is well-suited for the likes of nature lovers. Visitors are drawn for its quiet remarkable sandy shores. The beauty is truly mesmerizing.
Bask in the warm sun. Take a swim in the sea. Visit the hot spring flowing in the beach said to have been blessed with medicinal properties. The spiritually blessed Papanasam beach is near Varkala. It houses the Janardhana Swamy Temple considered sacred to Hindus. There is also a Sivagiri Pilgrimage held in December here which pays respect to the social reformer Sree Narayana Guru.
Planning a tour to Kerala? Check-out top packages below:
Related posts:
15 Best Beach Resorts in Kerala
Explore the Exotic Village of Kerala Destination
Top 15 Ecotourism Destinations in Kerala
Top 10 Wildlife Sanctuaries and National Parks in Kerala
7 Most Beautiful Backwaters Destinations in Kerala