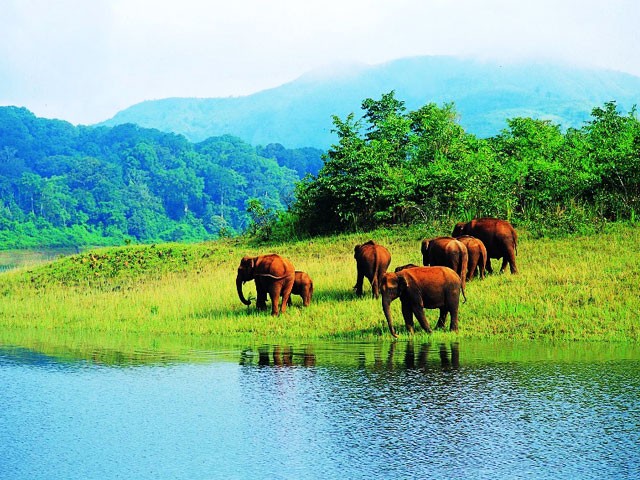 We all know Kerala is a haven of beautiful backwaters, incredible beaches, mouth-watering cuisines as well as the quintessential Ayurveda treatments, which is of course the state's unique selling point (USP). However, there is another, more exciting and enticing aspect of Kerala that needs further exploration-The best wildlife sanctuaries in Kerala.
Being home to some of the most exotic and rare species of animals and birds, these sanctuaries definitely make the name of Kerala as God's Own Country meaningful. Check out these top 10 Wildlife Sanctuaries and National Parks in Kerala and find out what each one of them holds special for the tourists and adventure enthusiasts who happen to tour this exotic state.
Periyar Wildlife Sanctuary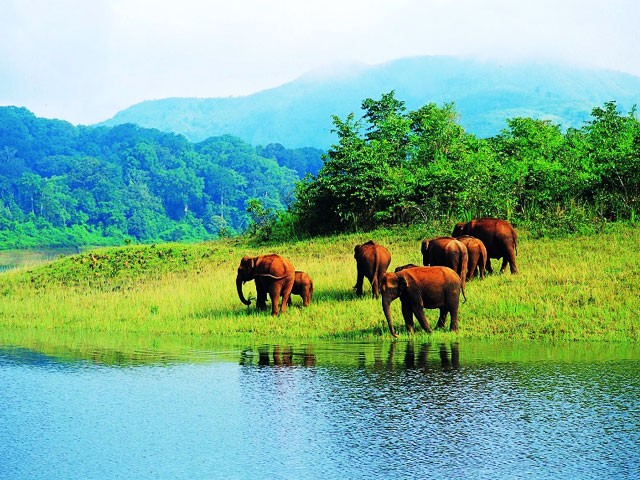 Nestled in the cradle of Western Ghats and situated in the Idukki and Pathanamthitta districts of Kerala, the sanctuary occupies the space around the Periyar Lake, which was initially built as a water reservoir. Located in a vast and lush green space of over 675 square kilometers, the park house nearly 35 species of mammals and over 265 species of birds as well as abundant vegetation and flora species.
Also going by the name "Thekkady Wildlife Sanctuary" visitors can find numerous exotic class of animals such as flying squirrels, lion-tailed macaques, jungle cat, wild pig, sambar, strip-necked langur, etc. as well as species of birds such as Nilgiri wood pigeon, black baza, great hornbill, black-necked stork, blue-winged parakeet, etc. besides many other kinds of reptiles, fishes and insects.
Trekking and boating find most favorable with the tourists whereas elephants ride into the jungle makes an exciting part of the exploration of the forest and its wildlife.
[ Check-out 3 Days Periyar Tour Package ]
Eravikulam National Park
Spread in an expansive 100 square kilometers area, Eravikulam National Park is one of the most popular national parks in Munnar. Furnishing wonderful views of tea plantations and misty rolling hills, the park is home to one of the largest species of Nilgiri Tahr, a precious specie of mountain goat, well as several other species of rare and endangered birds, animals and butterflies.
The best time to visit the park is from April to June and then from September to November when it is considered ideal to explore it due to wonderful weather. The park is also a great place to witness the astonishing biodiversity of high elevation shola grasslands as well offers a wonderful view of Anamudi, the highest peak of southern Himalayas.
[ Also check Top 10 Hill Stations in Kerala ]
Parambikulam Wildlife Sanctuary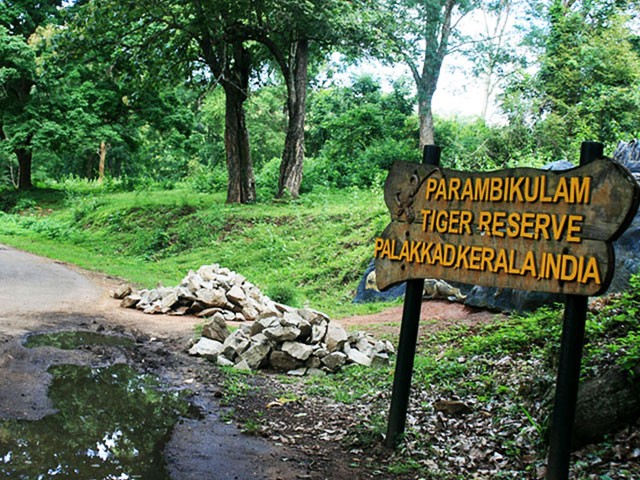 Like an oasis of remarkable serenity, located approximately 110 kilometers from Palakkad district, Parambikulam Wildlife Sanctuary is a spot of an exotic variety of flora and fauna.
A kind of heaven for travel photographers and wildlife enthusiasts, the area is home to such treasure of species as Nilgiri Tahr, Nilgiri Langur, Lion-tailed macaque, spotted deer, Asian elephant, Indian wild dog and several different kinds of snakes and birds and spiders.
Moreover, the park houses many distinct kinds of trees, primarily, neem, rosewood and sandalwood which form an incredible backdrop.
Boat cruises are available from Parambikulam Reservoir. Trekking is one of the best ways to explore the wildlife sanctuaries but can only possible after permission from forest officials. A treehouse is also present in the Reserve Forest Area in Thoonakadavu while other lodgings offered by State Forest Department at Thoonakadavu, Thellikal and Elathode have comfortable accommodation for those wanting to experience wildlife from close quarters.
Chinnar Wildlife Sanctuary
Full of many different colors of nature, Chinnar Wildlife Sanctuary is an amazing and exclusive thorny forest pervaded with xerophyte species. The sanctuary falls into the rain-shadow area of Western Ghats and is home to the exotic species of Giant Grizzled Squirrel of India whose number is less than 200 in the entire forest region.
The appeal of the sanctuary is enhanced by a nearby Sandalwood forest while huge herds of elephants and gaur passing can be witnessed here by the visitors. The forest provides shelter to such different species as spotted dear, elephants, hanuman langur, sambar, and peacocks while an amazing mix of dense vegetation of deciduous forest furnishes an ideal range for trekking.
The sanctuary, situated about 230 kilometers from Ernakulam railway station and nearly 204 kilometers from Cochin International Airport is a great place to spend some quiet moments in the lap of wildlife and nature.
Idukki Wildlife Sanctuary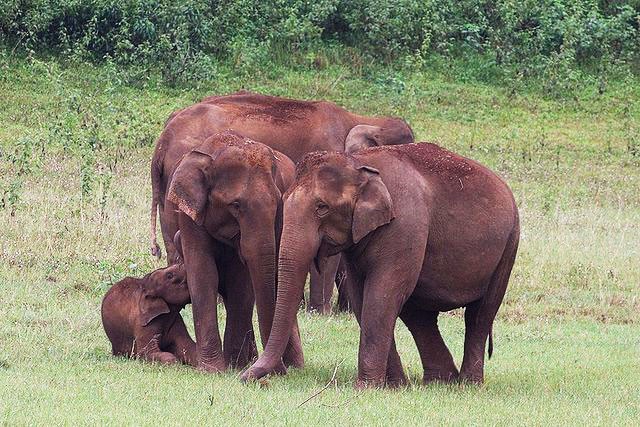 The Idukki Wildlife Sanctuary is spread in a total area of 105.364 kilometers and is one of the most naturally blessed regions of Kerala.  Situated at stunning heights of 450-748 meters above sea level, diverse species of beasts such as sambar deer, jungle cats, tiger, elephants, bison and snakes such as cobra, viper, kraits and non-poisonous species can be located within the confines of the sanctuary.
On the other hand, the area is also home to exotic species of birds such as the grey jungle fowl, Malabar grey hornbill, bulbuls, flycatchers and many other varieties of woodpeckers.  A picturesque lake lies within the vicinity of the sanctuary, surrounded by tropical and ever-green deciduous trees and offers boat rides to visitors.
Situated adjacent to the world-famous Idukki Arch Dam, the park is approximately 140 kilometers away from Madurai as well as 114 and 190 kilometers from Kottayam Railway station and Cochin International Airport.
Kumarakom Bird Sanctuary
An ideal place for bird watching, Kumarakom Bird Sanctuary is home to exotic kinds of birds and the stunning lush greenery. Kumarakom is dotted with numerous natural attractions and is a prime tourist destination of Kerala.
Spread in an area of 14 acres, an array of vastly diverse types of birds such as Indian Darter, Little Cormorant, Egrets, Herons, White Ibis, Kingfishers as well as waterfowls such as garganey teal, spot-billed duck, pin-tailed duck and other birds of prey such as marsh harrier, steppe eagle, osprey, etc. can be located here. Moreover, the months of November and May also draw a number of migratory birds to the threshold of Kumarakom.
Other more different varieties of indigenous and migratory birds can be found after a short boat sojourn to Kaipuzha Muttu, Pathiramanal, Narakathara, Thollayiram Kayal, Poothapandi Kayal.
The ambiance around the area is incredible and the atmosphere is full of different, sometimes most exotic and strange bird sounds. It hardly needs more information to assume Kumarakom Bird Sanctuary as one of the most fabulous places in India.
Wayanad Wildlife Sanctuary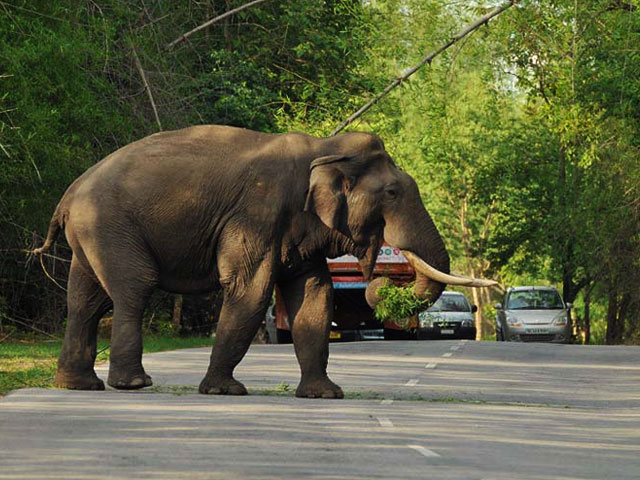 One of the prime tourist destinations in Kerala, Wayanad 'God's Own District' is home to the most famous wildlife sanctuaries, lush greenery and spectacular landscapes. A large number of tourists come here to get the best experiences in wild and most scenic beauty.
Located within the region which is running contiguous to the protected area of Bandipur and Nagarhole of Karnataka on the Northeastern part and Madhumalai of Tamil Nadu on the Southeastern part, the Wayanad Wildlife Sanctuary features a wonderful mix of different species like tigers, leopards, wild dogs, elephants, civets, bears, etc. Amazing weather throughout the year welcomes tourists every time while elephant rides to explore the forest are most favorable with them.
Spread within an area of 344 square kilometers, a wonderful valley by the name "Lakkidi" is located inside the sanctuary area and different tribal groups such as Paniyas, Adiyars, Ooralis, Kurichyas, Kattunaikkans have their homes in the vicinity of the sanctuary area. Definitely one of the most amazing places to visit in India.
[ Check-out 3 Days Wayanad Tour with Vythiri Treehouse ]
Silent Valley National Park
Situated in the Northeastern part of the Palakkad district, the Silent Valley National Park occupies the core area of Nilgiri Biosphere Reserve and features some of the most fragile species of flora and fauna, some of which are extremely rare.
A rich reserve of biodiversity, the park comprises about 1,000 species of different flowering plants including about 110 species of orchids, 34 species of mammals, 400 species of moths, 200 species of butterflies, 150 species of birds including 16 endemic bird species and about 128 beetle species.
Some of these species like the Leopard, Sloth Bear, Malabar Giant Squirrel, Niligiri Langur, Spotted Dear, Mouse Deer and Gaur enhance the beauty of the Silent Valley National Park, while other rare and unique birds such as Grey-headed bulbul, Great Indian Hornbill, Malabar Parakeet, Malabar Pied Hornbill, Pale Harrier and many other add their noise to the silent and peaceful ambiance of this exquisite place.
Peppara Wildlife Sanctuary
Spread in an area of 55 square kilometers and located nearly 1066 meters above sea level, The Peppara Wildlife Sanctuary is home of a fascinating mix of diverse species of flora and fauna. The forest zone of Peppara is located within the catchment area of Peppara Dam, standing across Karmana River and is rich thicket of three types of forests-tropical evergreen, semi-evergreen and moist mixed deciduous.
Harboring many species of exotic birds such as Malabar Grey Hornbill, White-bellied Treepie, Small Sunbird, the park is an also a natural habitat of animals like Lion Tailed macaque, Wild Dog, Panther, Elephant Tiger, Langur and Wild Boar as well as many of the reptiles, fishes and amphibians.
Situated just 50 kilometers from Thiruvananthapuram, the sanctuary with a varied topography is a beautiful place to visit to witness the flourishing biodiversity and natural wealth of the area and makes a great weekend getaway.
Aralam Wildlife Sanctuary
Occupying the lush western slopes of the Western Ghats, the Sanctuary is home to such species as leopards, Elephants, Tigers, Sloth bears, Jungle Cats, gaur, Nilgiri langur, spotted deer, barking deer, Bison, Boar as well as many different kinds of squirrels.
Aralam Wildlife Sanctuary comprises several hill ranges whose altitude falls within the range of 50 to 1145 meters. The area of the highest peak, called the Katti Betta is home to verdant semi-evergreen forests.
The facility was established in 1984 when Kerala Forest Department took over the privately-owned forest areas of Odanthode. The area, receiving ample rainfall is conducive to the habitat and growth of a diverse animal and plant species.
The best time to visit Aralam is between June and October and while it can be accessed in the shortest time from Thalaserry Railhead which is located nearly 55 kilometers from the Thalassery Railhead.
Find here some amazing Kerala wildlife tour packages:
Related posts:
Top 5 Tree House Resorts in Kerala
Top 10 Hill Stations in Kerala
11 Best Places to Visit in Kerala with Family 2021
Top 10 Tourist Attractions in Kerala that are simply the real deal