Kerala, God's Own Country is a utopia of food pleasures. The cuisines of the state are wonderful and one simply cannot resist trying the delicacies. Celebrated as the "Land of Spices", food of Kerala is spicy, hot and aromatic, in other words delicious. Snuggled between Western Ghats and Arabian Sea, Kerala enjoys food items of the sea, river, rice, vegetables, coconut, curry leaves, tamarind, spices and poultry. Ayurvedic herbs are also included. Food of Kerala is one of the cherished experiences and there are numerous must try dishes.
Here are 11 best foods to try during your trip to Kerala:
1. Sadya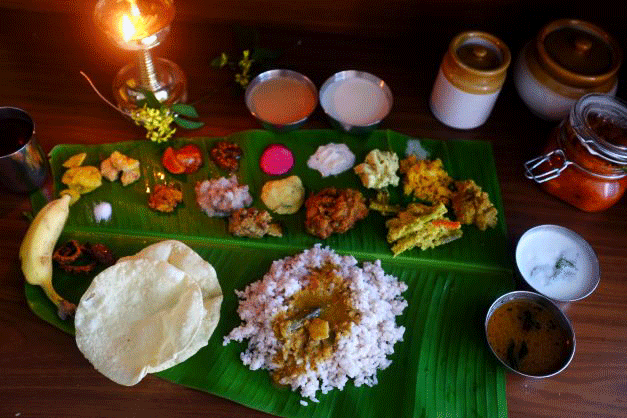 Sadya in local language means feast. The traditional vegetarian dish of Kerala is generally eaten in lunch or during a feast. Sadya is not a single dish, rather an elaborate meal served on plantain banana leaf. Sit crossed leg on the floor and enjoy the delicious meal.
Boiled rice, a range of side dishes, a small yellow banana, pickles, papads, 5-8 different kind of gravy dishes with vegetables, curd, lentils, rice and to end the lavish meal many different kinds of dessert (Payasams) are offered in the meal. Do not miss out to enjoy the feast on your Kerala tour.
2. Idiyappam (Rice noodles) and Egg roast
The specialty of Kerala, Idiyappam is served as the main course at breakfast or dinner. Also known as string hoppers, it is made of rice flour or wheat flour, salt and water. The dish can be accompanied with egg roast, curry (potato, egg, fish or meat curry) and coconut chutney. The Malabar region of Kerala is famous for serving idiyappam with sweetened coconut milk. The healthy delicacy is ideal to break your fast.
3. Kappa
Kappa is a dish of steamed tapioca. Favored as the healthy breakfast meal, it is mouthwatering. Though numerous kappa preparations are available, the mashed kappa is the most favored. The easy to cook food can be eaten as an appetizer, breakfast, side dish for your lunch, or as any-time snack. A variety of curries and chutneys can also be cooked with kappa.
4. Avial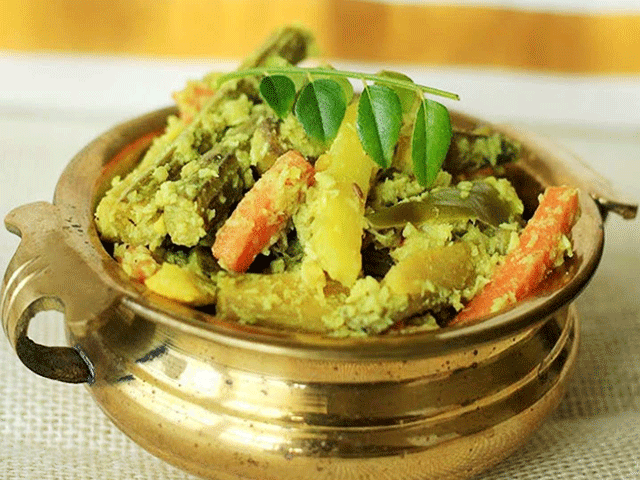 Among the many curries in sadya, one remarkable curry is avial. The rich preparation of vegetables and coconut is delightful. The vegetables are sliced into thin pieces and cooked to a crunchy evenness with lightly beaten curd, garlic, coconut grating and coconut oil. Healthy and tantalizing, the side dish is one of the must dry dishes in Kerala.
5. Puttu and Kadala Curry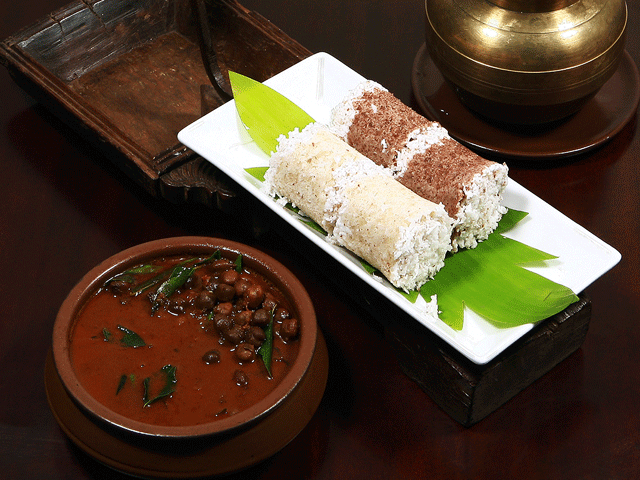 Puttu and Kadala curry is a breakfast essential of Kerala. The healthy meal is a vegetarian one, appealing taste buds with the appealing favors. Puttu is a cylindrical steamed rice cake cooked in a bamboo or steel mould with grated coconut. The kadala curry is a dish of black chickpeas made with shallots, spices and coconut milk.
6. Kerala Biriyani
Kerala Biryani is popularly known as Malabar biryani or Thalassery biryani. The speciality of this Biriyani compared to the other biryani variants is the choice of rice. Kerala Biriyani is cooked with Khaima rice and not Basmati. The method of preparation is similar as rice is cooked with hard boiled eggs, pieces of chicken, lamb meat, and beef in a clay utensil for few hours on a slow flame. Fried onion and raisins, date chutney, a raita and papdums are served with the dish. Biriyani in Kerala in one of the must-try dishes for its unique taste and aroma.
7. Kerala Fish Curry
The speciality of Kerala, the red colored fish curry needs to be relished in your visit. Cooked with tamarind, the taste and aroma is unique. The spices act as taste makers in the dish. Suitable for the Kerala climate, the fish curry is healthy and generally served in lunch. This dish is generally prepared in clay pots to add to the pleasant flavor.
8. Palada Payasam
The palada paysam is a sweet dish. It which is commonly served after lunch, mainly after a sadya. The pink dessert is cooked with milk, sugar and rice ada in a precise proportion. By tradition it is served on a banana leaf. Cashew nuts, raisins hint of cinnamon are also added to enhance the taste and as a garnish.
9. Unniyappam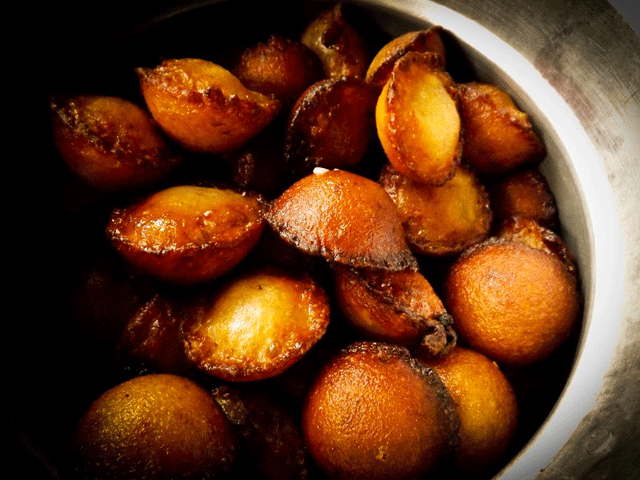 Unniyappam is a traditional snack of Kerala. This snack is customary for festivals and functions. The brown colored crispy, spongy sweet dish made up of jaggery, rice flour and banana is dleicous. Bring home the snacks as a remembrance of Kerala.
10. Fish moilee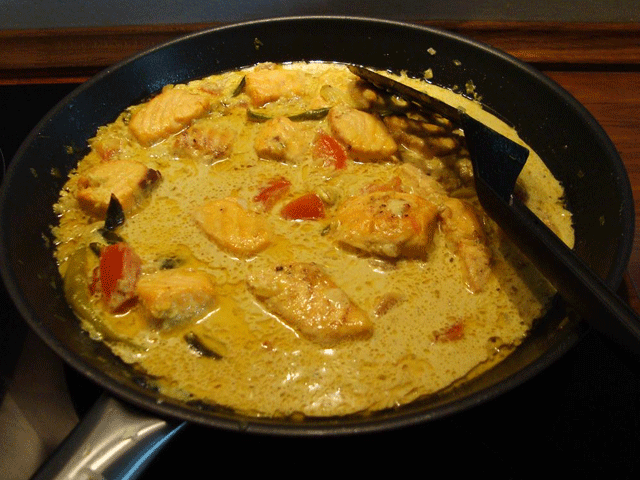 Fish Moilee is a famous Keralan fish stew made with coconut milk. The distinctive Syrian Christian delicacy is one of the must try dishes in Kerala. The curry is usually cooked in a traditional manchatti (earthen vessel). Usually kingfish or seer fish is used for the dish. The fish are marinated with oil, turmeric, red chili powder, lemon juice and salt for 30 minutes before it is lightly fried in coconut milk. The stew comprises of spices like turmeric, pepper, cinnamon and cloves along with fresh green chillies creating a unique tangy taste. Lunch is a memorable affair when this food item is served.
11. Banana fritters (dessert)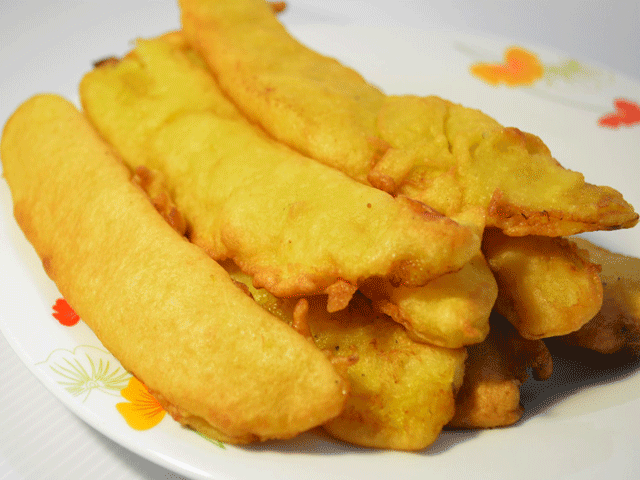 The delectable banana fritters feature as a traditional tea time snack in Kerala. Pazham pori or Ethakka appam is easily available throughout Kerala. These snacks are simply ripe bananas coated with plain flour and deep-fried in oil. Binge on the absolutely tasty snack. Return home with these snacks or the recipe as you may seem to often crave for the snacks.
Related posts:
7 Most Famous Festivals in Kerala That You Must Join and Enjoy
8 Must visit Palaces in Kerala to discover rich culture and heritage
5 Reasons to go to Kerala during the Monsoon
Top 5 Ayurvedic Resorts in Kerala