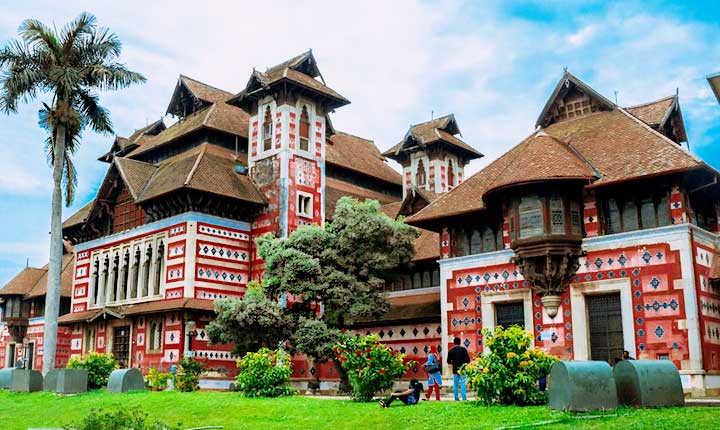 Thiruvananthapuram or Trivandrum is the capital of Kerala. It presents the perfect blend of rich heritage and colonial legacy. No wonder, there is no dearth of best places to visit in Trivandrum. Bordering the Arabian Sea, Trivandrum boasts about towering temples, incredible museums, long sandy coastlines, and elegant palaces. This city has retained its old-world charm and architectural marvels can be found all over the city. There are a plethora of amazing places to visit in Thiruvananthapuram, which are worth a visit and will leave you spellbound.
Have a look at the most visited places in Trivandrum that can make your Kerala tour memorable.
1. Kovalam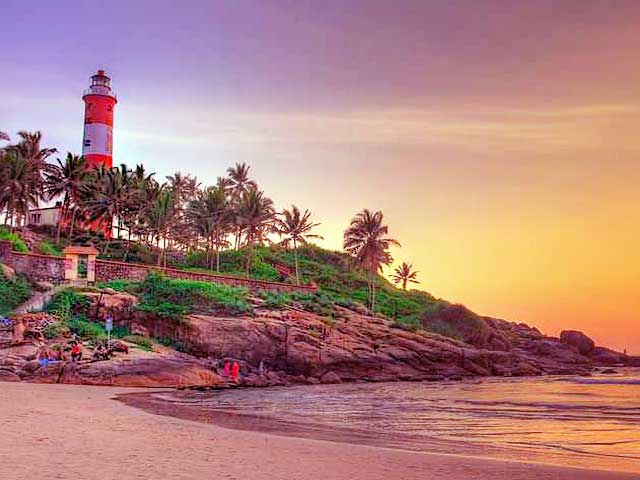 Located 13 km from Trivandrum, Kovalam is an idyllic coastal town. It is renowned for its 17 km long coastline and three adjacent crescent-shaped beaches – Lighthouse, Hawah, and Samudra.
Kovalam boasts about Ayurveda resorts, luxury hotels, and rich cultural heritage, which makes it among the best places to visit in Thiruvananthapuram. This bustling beach destination is blessed with breathtaking beauty, sandy beaches, and serene backwaters.
It is a perfect place to channelize your inner adrenaline junkie and rejuvenate your mind, body, and soul.
Attractions
Therapeutic and wellness Ayurveda including wellness therapies.
When to Visit in Kovalam
September to March
[See our tastefully crafted Kovalam Tour Packages here]
2. Meenmutty and Kombaikani Fall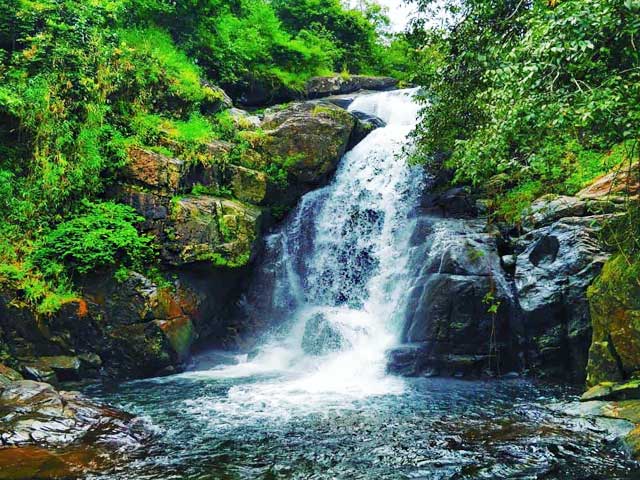 Meenmutty Falls is located near the Neyyar reservoir 45 km from Trivandrum. They are situated inside the dense forest and are accessible on foot. Kombaikuni Falls is 2 km from Meenmutty Falls.
These are among the most thrilling waterfalls and nestled in the lap of dense jungle. The fantastic view of 1000 feet gushing cascades and a picture-perfect backdrop offers a stunning contrast for photography.
Attractions
The trek runs parallel to the glistening river and offers a beautiful view of thick vegetation, making it the most visited tourist attraction in Trivandrum. From the top of the waterfall, the breathtaking view of the Banasura Sagar dam can be witnessed.
When to Visit
9:00 AM to 5:30 PM
Suggested Read: Short Escape to Wayanad
3. Napier Museum
Situated in the heart of Trivandrum, Napier Museum is the perfect place to get a glimpse of the rich cultural history of Kerala. It was built in the 19th-Century and houses historical artifacts including ancient ornaments, bronze sculptures, ivory carvings, and paintings.
This museum is an architectural marvel and a perfect blend of Indo-Saracenic style. The museum complex houses two buildings including Great Napier Museum and Natural History Museum.
Attractions
Japanese show-play leather, which is used to depict the epics of Mahabharata and Ramayana.
Best Time to Visit
10:00 AM to 04:45 PM (Closed on Mondays and Wednesday forenoons)
4. Varkala Beach
Located on the north end border of Trivandrum district, Varkala Beach is also known as Papanasam Beach as it is believed that taking bath here washes away all the sins. This beach boasts about vibrant environs and a beautiful stretch of sand.
Famous for Ayurvedic resorts, spa, and mineral springs, Varkala Beach is one of the best beaches in Kerala. The beach also offers adventure activities like surfing, snorkeling, and parasailing. Also indulge in meditation and yoga while vacationing in Varkala.
Attractions
The water of the beach is recognized for its healing properties.
When to Visit
October to February
5. Ponmudi
Ponmudi is an idyllic town in Trivandrum and nestled in the lap of the Western Ghats. The slopes of this hill town are blanketed in mist and the trails are the visual treat. Enveloped with lush green hills, tea plantations, and gushing waterfalls, Ponmudi is popular among adventure enthusiasts and nature lovers.
A perfect blend of wilderness and laid back environment, Golden Valley is a popular honeymoon destination in Ponmudi,
Attractions
Paragliding, trekking, mountain climbing, and rafting are popular adventure activities.
When to Visit
November to March 
Suggested Read: Ponmudi Hill Station
6. Poovar Island
Beautifully tucked between the stunning River Neyyar and the Arabian Sea and located about 35 km south of the main town of Trivandrum. Poovar Island is an epitome of beauty and rare natural wonder too, as one can find a perfect combination of river, lake, sea, and beaches at the same site. It is the island where the emerald backwater of Kerala joins the beaches. The golden sand, soothing breeze, and waving coconut palms, and more appeal and make it amazing to unwind.
Attractions
The floating restaurants on the way are an excellent pit stop for the ones who go for a day excursion cursing in these backwaters in Poovar.
When to Visit Poovar
October – February
7. Shangumugham Beach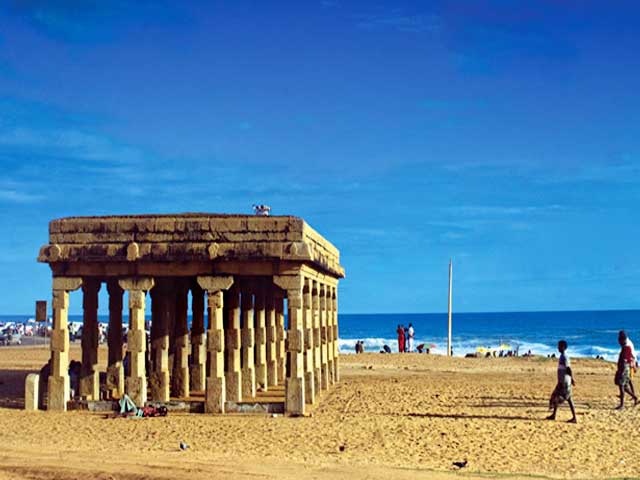 Merely 10 kilometers away from the city, Shanghumugham beach is one of the attractive tourist destinations to visit in Trivandrum. Give a visual treat to your eyes with the beautiful sunset views from the beach. The crowd, especially during the weekend, make this place more dynamic. Enjoy recreational activities beach volleyball, swimming, and elephant ride or simply relax and stroll along the shoreline.
Attractions: 
One can find a huge statue of a mermaid, Matsya Kanyaka in a reclining posture, which is one of the centers of attraction in Trivandrum. Also, do not forget to relish delicious cuisines at the starfish-shaped restaurant.
When to Visit Shangumugham Beach
October – February
8. Neyyar Dam & Wildlife Sanctuary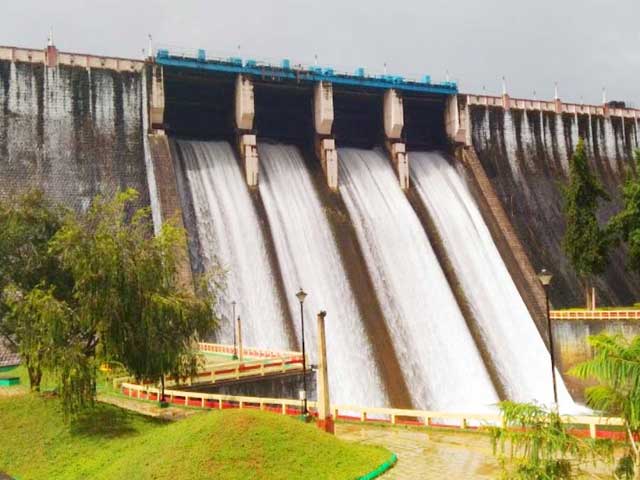 Located about 32 km away from Trivandrum, Neyyar Dam & Wildlife Sanctuary is renowned for its lion safari park, rich biodiversity, and beautiful scenery. The sanctuary is a rehabilitation center for elephants and has a crocodile farm. It boasts several species of wild animals such as lion, tigers, elephants, lion-tailed macaques, leopards, sambar deers, and Nilgiri tahrs. Apart from that, rare varieties of medicinal herb, lush plantations, and green meadows can be seen here. The sanctuary is also a paradise for adventure enthusiasts as it has many natural trekking trails. Neyyar Dam and Lake located close to the sanctuary offers a great site for boating and bird watching.
Attractions
Do not forget to visit the watchtower located in the sanctuary to get a stunning picturesque view of the region and spot animals from above.
When to Visit
9:00 AM – 4:00 PM (Daily except for Monday)
9. Peppara Dam & Wildlife Sanctuary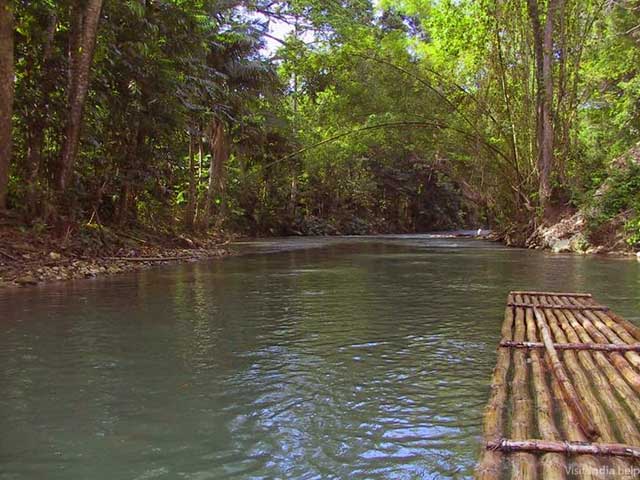 It is one of the best places to visit in Trivandrum especially for wildlife enthusiasts. Located about 35 km away from the city, Peppara Dam & Wildlife Sanctuary is an abode of several wild animals and rare species of birds. One can find various species of animals including leopard, tiger, sloth bear, elephant, deer, bonnet macaque, Nilgiri langur, and Nilgiri tahr, etc. This epitome of beauty is surrounded by misty mountains. Many wildlife lovers and ornithologists visit this place to observe the wildlife closely. Peppara dam near the sanctuary is one of the major sources of water supply to the city.
Attractions
Peppara Wildlife Sanctuary offers one of the best trekking for adventure enthusiasts. Vazhvanthol falls is one of the major attractions in the region and trek to this waterfall is an amazing experience.
When to Visit
10:00 AM – 6:00 PM
10. Kowdiar Palace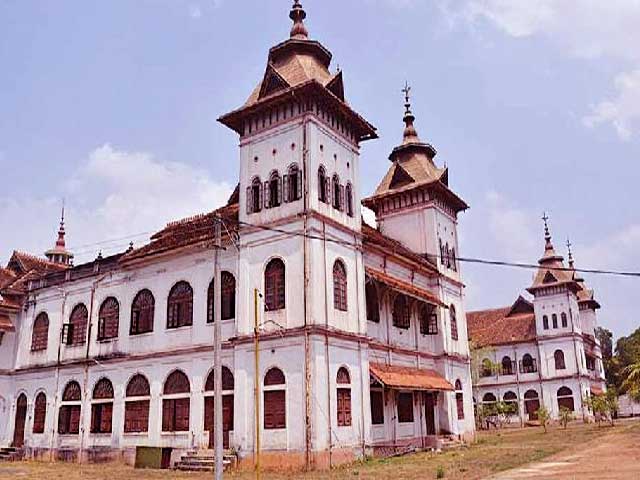 This 20th-century architectural marvel is the official residence of the existing Maharajah of Travancore. Located about 4 km away from the city of Trivandrum, it is one of the best places to visit in Kerala. The palace was built by Maharaja Moolam Thirunal, which depicts a magnificent blend of Travancore style of architecture and design. The palace is surrounded by lush greenery and has more than 150 rooms.
Attractions
The Kowdiar Palace itself is a huge attraction. However, you can visit nearby attractions such as Napier Museum, Akkulam Tourist Village, and Sreevaraham Temple Pond
When to Visit
10:00 AM – 4:00 PM
11. Veli Tourist Village
Located at the confluence of Veli Lake and Arabian Sea, the Veli Tourist Village is a lovely picnic spot. It is a magical tryst with nature that attracts nature lovers and fun seekers alike. Sculptures here are an added delight on which kids even climb while picnicking. It also has a park, especially for kids. Delight in the char of a garden on the banks of Veli Lagoon. Veli beach is another attraction here. A long walkway connecting Aakulam Lake can also be enjoyed here.
Attractions
Veli Tourist Village
Floating bridge, floating restaurant, boat rides, rock climbing and other adventure activities
Timings:
8.00 AM and 6.30 PM every day
12. Attukal Temple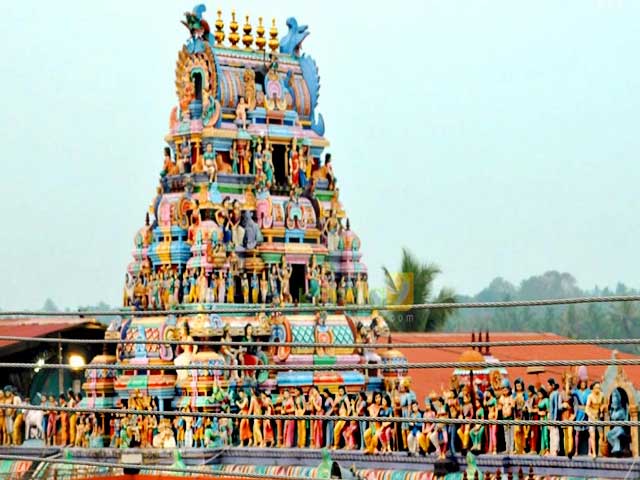 Dedicated to goddess Bhadrakali – one of the forms of goddess Mahakali, this temple is among the most sought after places. Its mystical architectural design and serenity beckon devotees from far and wide. No wonder, it is one of the best tourist places in Trivandrum. It is celebrated for holding multiple Guinness World Records as well as welcoming maximum devotees for festivals. Refresh yourself with a cup of coffee and snacks at the famous Indian Coffee House near the temple.
Attractions
Pongal is celebrated with great zeal in the temple compound.
Timings
5:00 AM to 12:30 PM, 5:00 PM to 8:30 PM
13. Aruvikkara Dam
Standing on the outskirts of Thiruvananthapuram, Aruvikkara Dam makes a good choice for a weekend getaway. Indulge in the calmness and scenic charm all around as Karamana River sends you an invite to spend some time amidst the pristine beauty of nature. Attractions around the dam add to the reasons why it is considered one of the famous places to visit in Trivandrum.
Attractions
Durga Temple and pristine picnic spots are good choices for some leisurely moments with your loved ones.
Timings:
10:00 AM to 06:00 PM
14. Agasthyakoodam
Agasthyakoodam is among the highest peaks of Kerala, which is named after the Saint Agasthya. The peak is home to rare medicinal herbs along with other flora and fauna. The area is known to have more than 2000 species of orchids, lichens, ferns, and mosses. You can watch it from a site close to Neyyar Dam and Bonacaud. You need to obtain a forest pass from the wildlife office in Thiruvananthapuram.
Attractions in Agasthyakoodam
Birdwatching, trekking, and a temple dedicated to Saint Agastya
When to Visit Agasthyakoodam
7:00 AM to 5:00 PM
15. Vizhinjam
'Vizhinjam' is a natural port and among the busiest fishing harbors located close to international shipping routes in Thiruvananthapuram. A demonstration plant stands here that converts energy from sea waves to electricity.  Several colorful fishing boats are seen tucked on the harbor. On the shore, you can witness the fishing life of the locals. Among several significant historical facts associated with it, it is noteworthy that the place was a battle ground from 850 AD to 1400 AD.
Attractions in Vizhinjam
Vizhinjam Rock Cut Cave (18th-century cave temple), Vizhinjam Marine Aquarium
When to Visit in Vizhinjam
9:00 AM to 6:00 PM
[ Must Read: Hotels in Thiruvananthapuram ]
So, which of these places are you heading to next? The capital city of Kerala treats you well with its attractions that cater to the interest of every tourist. These attractions cater to every type of tourists, be it history buffs, nature lovers, beach bums, adventurers, religious, and wildlife enthusiasts. Plan your trip today and explore the vacation delight at these places. Where will you visit first of all these tourist attractions in Thiruvananthapuram? 
Related Posts:
Top 10 Things to do in Wayanad
Best Things to do in Alappuzha or Alleppey
Top Things to do in Kumarakom
Top 15 Things to do in Thekkady