Red carpet rolling out, spotlights on, and then walks down the city of Kerala which has been winning hearts since forever. Kollam, one of the popular attractions of South India is best known for having a long coastline and a warm connect with Ashtamudi Lake. When the city tends to take a back seat, the tourist attractions in Kollam do the talking. From being home to the most visited backwaters in the state, laid back beaches, to refreshing waterfall, islands and much more.
This blog here strings all the beautiful experiences in Kollam and offers it to the travelers who have an undying love for nature and Kerala. So tag along and know all the secrets!
1. Ashtamudi Lake
Lakes are one of the first things that fascinate travelers. When you are in Kollam, expect to be swept off your feet with the sight of Ashtamudi Lake. What is it like being here? Palm and coconut trees playing with their shadow, birds donning the sky, and then there will be you on a houseboat. You can look at the photo above if you don't believe me!
Moreover, the lake possesses 8 arms or channels which totally lives up to its meaning 'eight braids'.  If you are in Kollam, you should begin from here. Then you will know why it is the most visited backwater and lake in Kerala.
Suggested Read: How to Plan Your Holiday in Kerala: A Comprehensive Guide
2. Tangasseri Lighthouse
For those who have a knack for different cultures and architecture, head to Tangasseri, a popular attraction in Kollam. It is basically a beach area which enjoys being on the shores of Arabian Sea and is home to Tangasseri Lighthouse. The tower was built by the British in 1902 and is the tallest lighthouse on the Kerala coast.
As you enter the white and red towers, go spiraling up the 193 steps from where you get a heartwarming view of the city. Furthermore, if you are not running short of time you can also visit St Thomas Fort and Infant Jesus Cathedral.
3. Kollam Beach
Did you hear the waves calling out your name? What are you waiting for, get your slippers on and visit the Kollam Beach. This tourist spot in Kollam is the best way to relax and soak in the beauty of the Arabian Sea. What if I tell you that you can also enjoy short canal cruises from here? Go get on the cruise, you can thank me later. Even water sports are a crowd puller of this beach.
Besides, you could also get a sight of the Chinese water pots, small boats and Chinese fishing nets outspread on the beach.
4. Jatayupara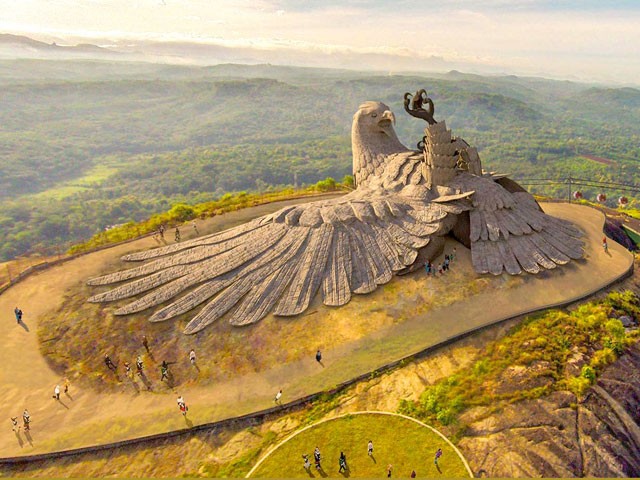 Are you taken aback by the huge size of this sculpture? Well, it is the largest bird structure in the world which is linked to the Hindu epic, Ramayana. It is believed that the mythical bird, Jatayu fell here injured while saving Goddess Sita from the clutches of Ravana who kidnapped her. This big rock gives pays homage to the spirit of the vulture.
The hillock is wrapped with tourist attractions where on top of it is a temple which worships Lord Rama. What lies beneath is a rock theme park perfect for the adventure lovers. Valley crossing, paintballing, zip line, archery, bouldering, trekking, wall climbing, and rappelling are some activities you can try at the park.
[Also Read: Top 5 Bird Sanctuaries in Kerala]
5. Palaruvi Falls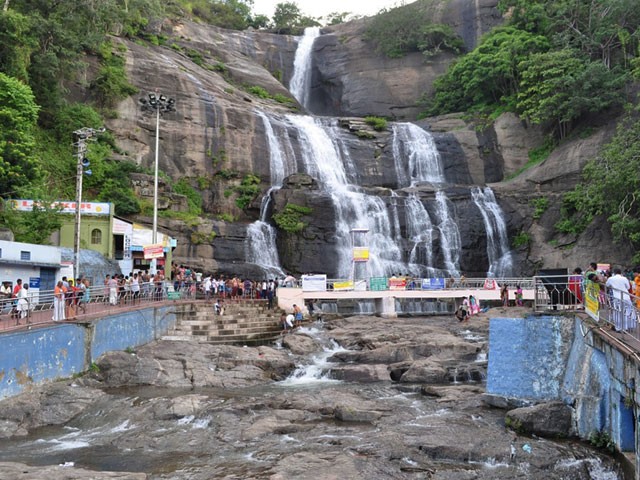 Among the list of places to visit in Kollam, next I take you for a refreshing experience to Palaruvi Falls. Rushing down from a height of 300 ft., this waterfall takes a back seat and enjoys the lush greenery around. Further, the literal meaning of Palaruvi stands for 'Stream of Milk' to which you will also agree after a dip here.
Palaruvi Falls is the perfect place if you are looking for a hideout to connect with nature. The soothing sound of the water splashing on rocks and flowing down will rejuvenate you.
[Check-out 10 Must Visit Gorgeous Waterfalls in Kerala]
6. Munroe Island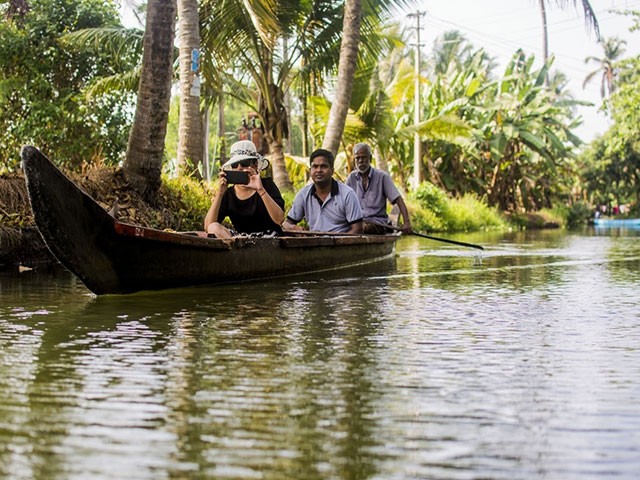 Just when you thought your holidays in Kollam cannot get more soothing, came in the Munroe Island. What makes this place special is the presence of shimmering Lake Ashtamudi and Lake Kallada on either side of it. Moreover, Munroe itself is home to 8 islands and is a wonderful nature retreat. Along with that, you can try the freshly cooked dishes offered at the restaurants dotted on the island. Munroe is also a good place to enjoy waterways and canal cruises.
Our recommendation: Best Kerala Tour Packages
7. Mayyanad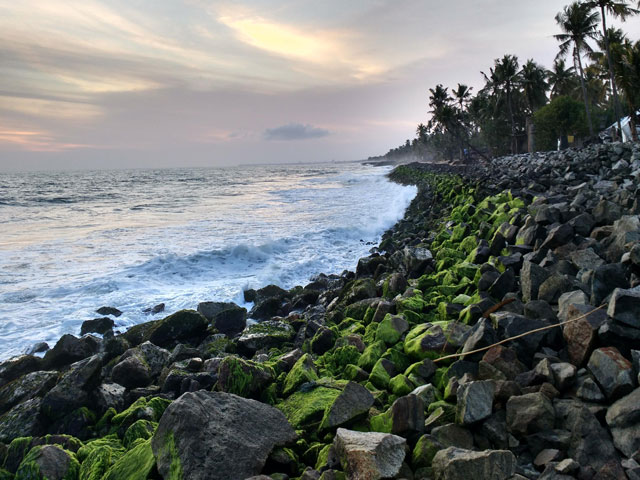 Adding a spiritual touch to your vacation in Kollam is the quaint village of Mayyanad. Snuggled on the coast of the Arabian Sea and on the banks of Lake Paravur, it is one of the best places to visit in Kollam. The village is home to 9 sacred shrines, each one having its own importance. However, Lord Subramaniam Temple is one of the most religious places in Mayyanad. If your wandering mind is bothering you a lot, then this is the place to feel enlightenment.
8. Thirumullavaram Beach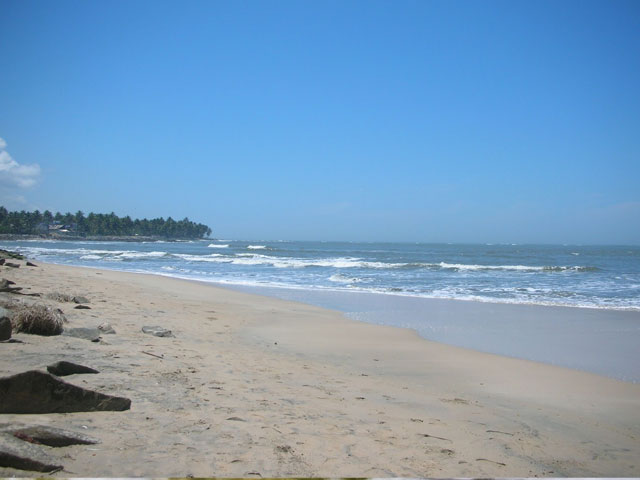 Filling your bucket list with some more beach waves and sun rays is the Thirumullavaram Beach. This tourist place is nestled in a part of Kollam city and is best known for the rituals of Karkidaka Vavubali. Moreover, the reason why a lot of travelers come here is the warm setting of coconut palms providing shade.
A visit to this beach is one of the best things to do in Kollam as you get to relish swimming and sunbathing. You can also treat your stomach with some delicious delicacies made more tasteful with the special spices found in Kerala. A sightseeing tour to Njarazhcha Para, a hillock close by is also a good option when around.
Related Posts:
9 Offbeat Backwater Destinations in Kerala
5 Best Places to Visit in Kozhikode or Calicut
12 Best Honeymoon Resorts in Kerala